Q&A: Jaclyn Willis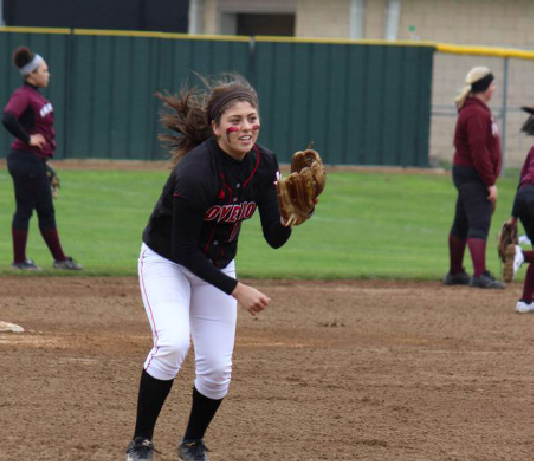 Nearly halfway through the District 10-5A season, the Leopard softball team is in first place at 6-0. One of the reasons for the team's success is the bat of junior Jaclyn Willis. Hitting .512 with a team-leading 24 RBIs in 14 games, Willis is this week's Dallas Morning News softball player of the week.
The Red Ledger's Michelle Leddon caught up with Willis to talk about her success.
The Red Ledger: How does it feel to be named Dallas Morning news' player of the week? Were you surprised?
Jaclyn Willis: "It's really such an honor. I really didn't expect it at all. I think it shows that all my hard work is just paying off and I really appreciate that."
RL: You are off to a hot start; what's the secret of your success thus far?
JW: "I think that over the past 3 years I've really just been practicing. I practice every day over the summer; I get up in the morning and I go out and I go hit, and all the hard work that I put in is finally all coming together."
RL: Four home runs this year, but none last year. Where did this power surge come from?
JW: "I actually started hitting with a new hitting coach and he taught me to start generating power in my legs by having a more open stance instead of just going for the ball, so I can really credit that to him."
RL: 24 RBI's in 14 games is impressive. Does the team look to you to carry the offensive load?
JW: "I think that I am part of the offense I guess that brings in the runs, but I think that so many other people of the team have been working just as hard as I have and have also been scoring quite a few RBIs so I think that the success is across the team."
RL: The team is scoring lots of runs, is that something that is naturally happening or are you guys doing something different this year?
JW: "I think that the difference between this year and last year is that we're more of a team this year and we kind of bonded so when I get on base and I have someone behind me, I know that they will score me and I know they will move me so it's just kind of a trust thing and just believing in each other."
RL: Is it reasonable to expect you to continue this offensive streak?
JW: "I know you can definitely say that I will keep working and I will keep producing for the team, but I'm just really excited to see what the rest of the year has in store."