Fine arts students spend spring break far from Texas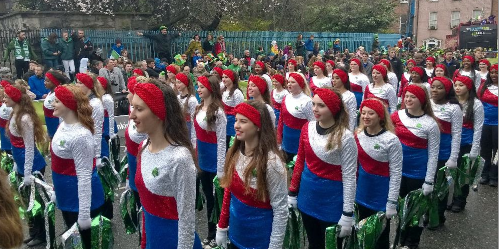 While some students enjoyed family vacations or a break at home, some campus clubs took trips to perform or hone their craft. The Majestics traveled to Ireland to perform in a St. Patrick's Day parade. The choir students traveled to Italy, and performed in famous chapels while band students took their annual trip to Missouri.
"The trip was kind of a combination of these cultural experiences and beautiful sights, historical lessons, and performance opportunities for the choir kids," choir director Bethany Stuard said. "We had three major performances. The first day we performed with an Italian choir of adults in this beautiful church and it was so wonderful to join forces and perform with them in a very wonderful resonant venue. The next night we actually sang music for high mass in Venice in this beautiful gold plated cathedral as a part of the service."
The choir sang for high mass once more at St. Peter's Basilica in the Vatican, the largest cathedral in the world.
"It was so intense going through security, standing in line, being asked to sing chants we had never sung before, but the kids focused and sang beautifully with so much spirit and so much heart," freshman Jessica Lucé said. "I really, really loved that. But I also loved hanging out with the kids, and eating food with them and just spending time with them was really lovely."
The Majestics received their share of foreign culture when they traveled to the lush, green land of Ireland to dance in a Saint Patrick's Day parade as well as see the sights along the way.
"We were invited by the Irish Tourism Bureau to join the Texas cohort to celebrate American drill team," Majestics dance team director Fela Lowrance said. "We went to a place called Glendalough on the last day that we were there which is an Irish monastery that was built in the 600s and it's one of the last ruins that they have of that time period and it was kind of in the Irish mountains and it was just beautiful. It's probably the most beautiful place I've ever been to, so that was my favorite part."
For the Majestics themselves, it was an experience they will likely never forget.
"Basically everything is so green and beautiful there, and there was rarely a piece of trash on the ground. The parade was an amazing experience. The native Irish get very involved in Saint Patrick's Day," junior Jenny Kaya said. "We marched through the major street of Dublin, and people were perched all over thirty and forty foot tall structures. All types of people were there and holding out their hands to high-five us or throw bead necklaces into the street. People had their faces painted the colors of the Irish flag and dyed green hair, body paint and a bunch of other crazy stuff. We walked for two hours straight, and every inch of the way was stuffed with people on the sides. Overall, it was the best thing I've ever experienced and I wish I could go back like right now."
Staying stateside the band also took their annual trip over spring break, traveling through the state of Missouri.
"Over spring break the band went to Branson and St. Louis, Missouri," band director Daniel King said. "We went to some fun venues like Silver Dollar City, the St. Louis Arch, and the St. Louis City Museum. On the whole, the trip was very enjoyable, thanks in no small part to all the great band students who were there with us."