Debate competes at State
After driving nearly 700 miles from Lucas, debate teacher Tami Parker and fourteen of her students are in El Paso until Sunday for the Texas Forensic Association State Tournament. The students qualified after receiving the necessary number of points throughout the competition season.
"It's the most [students] we've ever taken to state as a debate program and we have them in a variety of events," Parker said. " I'm very hopeful, but I also know debate is one of those things that's subjective. I don't know for sure how we will do, but I will say as the program has grown a lot recently we have gotten more and more consistent about winning. "
While in competitions such as UIL, the debate team competes exclusively against other 5A schools, the TFA  tournament includes competitors that have qualified from all Texas school districts.
"It's definitely more intimidating," junior Sonali Mehta said. "Because you have schools like Plano or Allen who just flood the events. It's really an experience anytime you get to compete in something like this, and competing against some of the best people in the state; you can see what they're doing and what you can learn from them. We've been competitive against them all year, and the competition just makes you want to do better."
TFA State is considered to be more difficult than other debate tournaments but students see the tournament as an opportunity to practice for the upcoming UIL season.
"Usually TFA is viewed as a harder competition than UIL," junior Matt Norwood said. "We've gotten better and better lately, and because of this tournament hopefully we will win at UIL."
Although the tournament is still in progress, Parker thinks the 1400 mile round trip journey is worth it.
"I'd like to have all fourteen of them on that stage," Parker said. "We've had a really great year and we are very hopeful. I'm proud of them no matter how we do. My students been very consistent all year so we'll see; maybe we'll have a big trophy, but if not it's okay, we'll have fun."
About the Contributor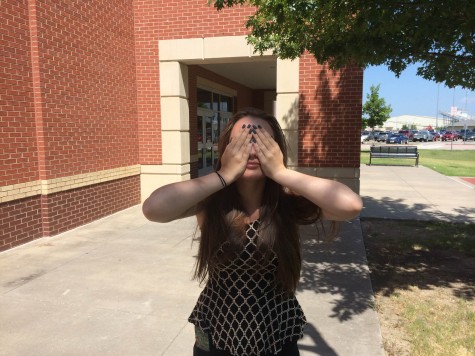 Alexa Mapes, Staff Reporter
Alexa / Lexa Mapes is senior who will fall asleep in the most inappropriate of places—including the Coliseum in Rome. In a Hard Rock Café in Paris,...