Young Masters displays student art at DMA
Hang on for a minute...we're trying to find some more stories you might like.
Some of the art that typically goes on display at the high school is now on display at the Dallas Museum of Art. The O'Donnell Foundation's 17th annual Young Masters Exhibition featuring art by eight students debuted February 28 and will remain on exhibit until April 28.

The art displayed includes digital photographs, drawings, sculptures, essays, and music compositions. The annual exhibition is to honor students in Advanced Placement art courses.
"It was very stressful because you have to compete against your friends in AP Art," senior Logan Stallings said. "They put a cap on the number of winners from each school, so even though our classes work could be miles above other schools, only a certain number of pieces from our school are allowed to advance."
Students that were interested in entering had to send in a digital photo of the single piece they wished to enter and if the student advanced, the work was sent to the DMA for display.
"One of the most difficult parts for me was definitely choosing just one piece and it took me a really long time to pick," Stallings said.
For some students, choosing a piece may have been easier because of a theme.
"My piece is very process based and has just as much time put into the planning as it does in the product," Cassidy Fuller said. "The idea behind this piece and the 11 correlating pieces that preceded it in my AP concentration is the concept of distance being able to change people in how they communicate and act toward one another."
Students have put a great deal of effort into these exhibits, and it has paid off.
"Their success has just blown me away," AP Studio Art teacher Brice MacCasland said. "Seeing the payoff of their hard work is a really beautiful thing because you see kids with talent a lot honestly as a teacher, but it's really rare that you see that coupled with work ethic and this backbone that is a key ingredient to being a great artist. As an artist you have to push really hard, and they do that. For me, I feel like I have the greatest job in the world because I get to sit back and watch them make this amazing art."

About the Contributors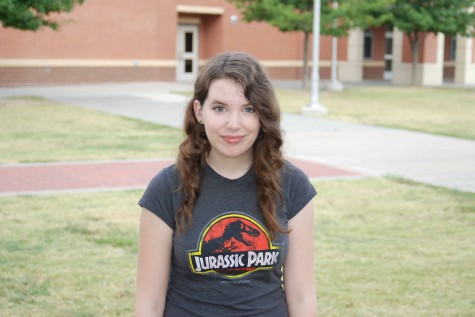 Michelle Leddon, Staff Reporter
Michelle Leddon is a ridiculously proud Texas native with too many pairs of Vans and not enough motivation. She's ridiculously impatient, but will willingly...