Wrestlers ready for state meet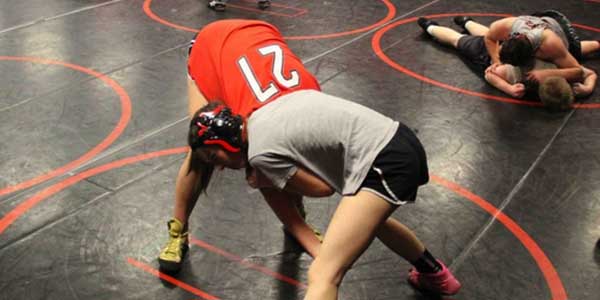 Five Leopard wrestlers will be leaving Thursday for the UIL state tournament at the Curtis Culwell Center in Garland with weigh-ins at 6:30 a.m. Friday and wrestling beginning at 7:30 a.m.
"I feel confident going into this weekend," head wrestling coach Mike Eaton said. "This is what each previous competition has lead up to, and the kids know what they need to do to be successful."
Three boys, Patrick Jones (106 lbs.), Connor Haden (182 lbs.), Thomas Elvin (285 lbs.) and one girl, Abby Eaton (95 lbs.) qualified from the regional meet with Julie Alyn (119 lbs.) an alternate.
"I'm excited to have the privilege to go to state as a freshman," Eaton said. "A lot of wrestlers don't get that chance their whole career. Our big competitors locally are Saginaw and Frisco schools. Statewide, the panhandle is known to have really good girl wrestlers specifically. I'm excited to wrestle them."
It's a feeling shared by all the wrestlers as each one is looking forward to one of the biggest meets there is.
"I hope to live out this experience," junior wrestler Patrick Jones said. "I've been wrestling since my freshman year, and I love the heart and strength it requires. In terms of preparation, I don't like to think about which schools I should and shouldn't be worried about. I just try to focus on wrestling the best I possibly can."
Though expectations are high for this year's state group, Eaton knows getting to where they are now is an impressive feat on its own.
"I'm extremely proud of this year's group," Eaton said. "No matter the result, this team has worked extremely hard. Not just the kids going to state, but everybody in the wrestling program has been consistent with their effort."