Spongebob: Sponge Out of Water falls flat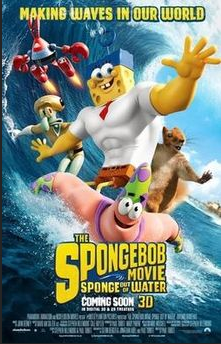 Daytime TV's most famous sponge is back in his second feature length film, Spongebob: Sponge Out of Water. Although it was exciting for younger fans and die hard fans to see Spongebob and friends back on the big screen, the movie falls flat at times.
The film tells the story of the chaos that ensues after a pirate (Antonio Banderas) takes credit for the Krabby Patty formula. Spongebob, his friends, and even the villainous Plankton make their way to land to reclaim the formula. After the 2004 movie, the show has devolved into less humor and more gross or shocking plot points than the original, and this movie is no different. There were quite a few laugh out loud moments and references to earlier episodes throughout, but sadly the story was lacking for the majority of the 90 minute film.
As expected, one of the film's strengths was the voice acting. After all these years, the original cast, including Tom Kenny as the title character, still do a fantastic job of bringing the characters to life. Even though the writing has gone downhill since the first few seasons, the voice acting is still true to the show's earlier seasons and amusing viewers.
Although it took some getting used to, the different 3D style of animation was nice. The only issue with it was that it was unnecessary because when Spongebob and Patrick are on land in the first movie, the style is the same as on the show. Even though the cartoony, 2D style is better, the 3D wasn't distracting or irritating, and it helped viewers adjust to the characters having super powers and different body types.
As the years go by, it becomes more and more clear that it is time for Spongebob to come to an end. It's a bit more clear after this film. This film would be an appropriate ending, but Nickelodeon isn't quite done yet.