A Smoothie King surprise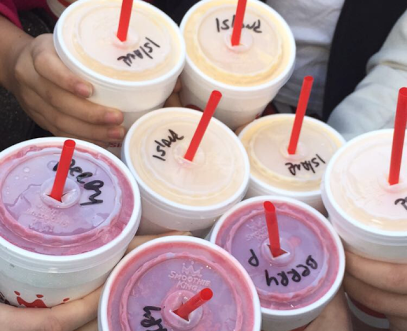 The cheerleaders received a pleasant surprise Tuesday morning when Smoothie King showed up announcing they had brought free smoothies for all. But freshman Jessica Lucé received an even bigger surprise.
"Smoothie King had been monitoring people's comments on Smoothie King on social media," head cheer coach Jennifer Leary said. "Every time Jessica goes to Smoothie King she comments on the different flavors she likes and how awesome they are. So they noticed her and realized she had a YouTube channel and that she is in choir and cheerleading and that she is a very active member of the community. So they decided to honor her."
Lucé had been almost completely in the dark about this situation before it happened.
"This morning my mom told me to make my hair nice and to put on makeup and I was kind of confused," freshman Jessica Lucé said. "I knew something was going to happen but then I saw the cameras and I was like 'what is going on?' and I was so confused."
Whenever Lucé gets Smoothie King, she always tweets about how happy she is. Smoothie King started following her on social media and they saw all that she does.
"They surprised me with a $300 mic for me for free," Jessica said. "They told me they had seen my YouTube and Twitter, because I always mention them because I love them."
After Lucé received her microphone the cheerleaders, went outside to chose from an abundance of different flavors.
"I thought it was really interesting that they came," junior Olivia Whitehead said. "It was totally not expected. Also it was really nice of them."
Leary was in on it from the beginning.
"I have known that they were coming since last Thursday," Leary said. "I was very excited. It is a good opportunity for the girls and it was good for Jessica but then it also gave the Leopard cheerleaders some free publicity. They also got to see the cheerleaders workout and what they do so that was fun."
The cheerleaders were caught off guard by this.
"I was really surprised and that was super generous to give out free smoothies to the entire team," junior Jocelyn Lo said.
Lucé was surprised and is thankful for their generosity.
"When they called my name I didn't know what was going to happen next," Lucé said. "I kind of thought I was being punked. It was really cool when I found out the real reason."
About the Contributor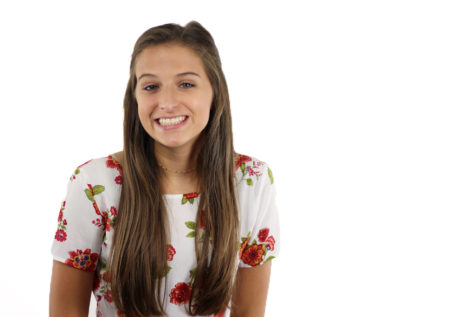 Mary Catherine Wells, TRL Editor-in-Chief
Mary Catherine Wells, a now senior at Lovejoy High School, proudly takes on the role of Editor-in-Chief at her online school newspaper, The Red Ledger....