American band creates an American Beauty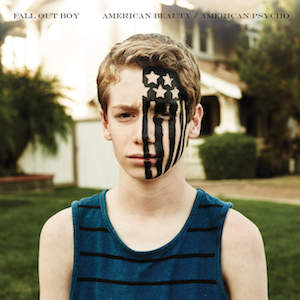 Fall Out Boy is back with American Beauty/American Psycho. Written mostly while on tour, it is surprisingly strong musically and lyrically.
The first track, "Irresistible" is begging for radio play, blending catchy lyrics and their typical anthematic vibe. The song is a wonderful representation of the album as a whole and is a strong start. In general, this album took what was the best about their last album (Save Rock and Roll), such as songs like "The Phoenix" and "Death Valley," and expanded on it. After their five year hiatus, it seems like the band has found something they excel at musically and it is evident on this album.
Bassist Pete Wentz wrote the majority of the lyrics on this album and it's his best songwriting since 2008's Folie à Deux. Wentz has a gift for writing heartfelt lyrics that are paired with fast paced music that blend with his relatable, thought provoking words in a great way. As expected, singer Patrick Stump's soulful voice complements those lyrics wonderfully, specifically on songs including "Jet Pack Blues," the popular single "Centuries," the more emotional "Favorite Record," and the teenage anthem in the making, "Novocaine."
Musically, the band hasn't necessarily grown a lot, but it was refreshing to see that the band did not collaborate with any artists like they did on the previous album that featured vocalists ranging from rapper Big Sean to pop legend Elton John. The most creative track musically is "Uma Thurman" which samples the theme song for The Munsters and is so catchy that it's difficult to not turn the song on repeat. The only reason why a few tracks, including the title track "American Beauty/American Psycho" and "Fourth of July" are a bit weak is because it seems likely that they won't translate well during live performances. The majority of the album is anthematic and extremely radio friendly, with songs that could be played on pop or alternative stations.
The album is really strong and will likely lead to more success for the band. The sound is fresh in the best way possible while still sticking to what Fall Out Boy currently does best.