College championship central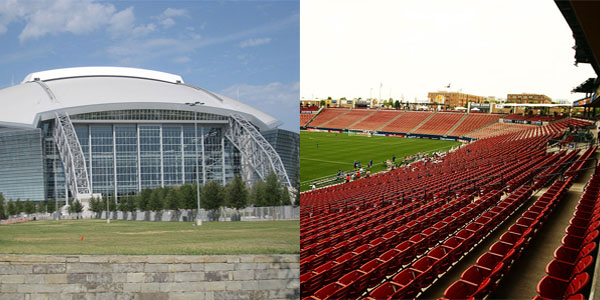 Although Dallas Fort-Worth football fans may be disappointed that Baylor and TCU got left out of the first annual college football playoff, this weekend the Metroplex is hosting both the FBS and FCS national championship games.
First up, Saturday's FCS national championship between #2 North Dakota State (14-1) and #5 Illinois State (13-1) at Toyota Stadium in Frisco.
North Dakota State is looking to win its fourth national title in a row while Illinois State is looking for its first championship. Both teams have just one loss at the hands of the same team: Northern Iowa in consecutive weeks.
North Dakota State comes into the game averaging 33.4 points per game (PPG) and allowing just 13.2 PPG in the regular season. The Bisons will become one of only two other FCS teams ever to play for a national title in four consecutive years, and they are also looking to be the second team in NCAA history to win four national titles in a row. Key players to watch for on the Bisons are running back John Crockett and defensive end Kyle Emanuel. Crockett set the NDSU record for most rushing yards in a season this year with 1920, and Emanuel currently holds the NDSU record for career sacks with 41.
Illinois State enters the game averaging 39 PPG on offense and allowing 20.9 PPG on defense throughout the regular season. Players to watch for are quarterback Tre Roberson who has thrown for 2,198 yards this season, and running back Marshaun Coprich who has 1,683 yards on the ground throughout the year.
On Monday night, it's the FBS national championship: #2 Oregon (13-1) vs. #4 Ohio State (13-1) at AT&T Stadium in Arlington.
This year's national championship may be one of the most highly anticipated national championships ever. For the first time in FBS history a true champion will be crowned due to the first ever college football playoff.
Heisman Trophy winning quarterback Marcus Mariota looks to lead the University of Oregon to its first ever national title. In the first round of the playoffs, the Ducks had a 59-20 win over former Heisman trophy winner Jameis Winston and Florida State which had won 29 games in a row. Oregon's high powered offense has averaged 47.2 PPG this year and their defense has allowed 22.3 PPG.
Although they may be the #4 ranked team, the Ohio State Buckeyes are on a roll and are as hot as any team in the nation right now. The Buckeyes are down to their third string quarterback Cardale Jones. With one week left in the regular season, Ohio State had to prove that they deserved to be in the playoff, and that is just what they did. Not many people believed that the Buckeyes would prove themselves with their third quarterback, but in his first ever start, Cardale Jones beat #10 Wisconsin 59-0. That win gave them the four seed in the playoff, and after a convincing win over top ranked Alabama, the Ohio State Buckeyes find themselves playing for a national title.
You can watch:
North Dakota State vs. Illinois State on ESPN 2 at 1 p.m. on Saturday
Oregon vs. Ohio State on ESPN at 7:30 p.m. on Monday