Ice Kingdom brings winter spirit to Grapevine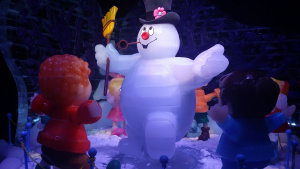 The arrival of winter has many Texas residents making their way to the Ice Kingdom in Grapevine, an attraction that includes large ice sculptures, hand crafted by over 40 international artists.
"I was very excited to see all of the different creations," freshman Isabelle Muirhead said. "I heard about it on the news and the sculptures looked absolutely beautiful."
This frozen winter is refrigerated to 23 degrees with parkas included in the entrance fee ($12.00 – 22.00). It is open until Jan. 3, 2015.
"Many people who had already visited recommended bringing warm accessories such as beanies and gloves in addition to the provided parka," sophomore Ryan Webber said.
The ice kingdom is an interesting winter break option for some people on campus.
"This is such an interesting way to spread holiday cheer," freshman Meredith Welch said. "It is also a fun option for a family night, especially since relatives will be visiting for Christmas."
Over two million pounds of transparent, opaque, and colored ice are made in ISA's portable ice factory. LED lights are also used throughout the attraction.
"It is amazing how these artists can transform huge chunks of ice into these amazing shapes in so little time, they are very skilled," junior Rachel Willmann said.
The total area of the exhibit is more than 10,000 square feet with sculptures up to 40 feet high.
Each exhibit took nearly 28 days to create.
"I definitely think that this event is worth the money," freshman Kristen Petty said. "The line was extremely long and many people who went were very pleased with the artwork this year."