Medical club competes for the first time in school history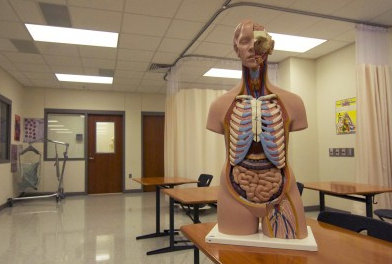 Students in the the medical club HOSA, competed in their first round of events from December 8 through the 10.
"This time around we didn't really know what to expect from the tests, because they don't give out any practice tests and don't tell you much about what you have to study for," HOSA sponsor Amy Tokarz said. "I think any place or ranking is great for the competitors this time around."
The students who competed had about two weeks to study their content, which wasn't enough for some.
"I did the medical terminology test and I didn't get to study much, but I think that I did pretty well on it," junior Shelbin Mattathil said. "I'm looking forward to getting the results and seeing how well I actually did on it."
Having never competed in HOSA before, students were unsure of what or how much to study.
"I didn't get a chance to study but I still believe I did decently well," sophomore and physical therapy entry Miranda Perry said.
While later rounds use physical tests, this round was completed online.
"I generally like doing paper testing, but the online testing made it easier and more accessible," Perry said.
There are also benefits to the online format.
"I prefer online testing over paper testing because it is easier to grade and more organized," Mattathil said. "I think it's a really efficient way to narrow down the students initially before they move on."
After these tests, students will know what to expect in the next go around.
"I think we're all going to learn a lot from this round of competition," Tokarz said. "A lot of people learned more about the subject they entered in, and know we all know how the tests go and run and things like that."
In order to advance to the next round of competition, students must have one of the top scores.
"If people are in the top rankings after taking the exams, they move onto area, which is at the end of January, then state, and then finally nationals," Tokarz said. "After that we just prepare for the next competition in the fall of 2015."