Girl gone Wild
Expectations were high for director Jean-Marc Vallée after the success of his most recent film, Dallas Buyers Club. His latest release, Wild, exceeds expectations, taking viewers along on a breathtaking journey.
Based on a true story, Wild is about 27-year-old rebel Cheryl Strayed's (Academy Award winner Reese Witherspoon) lone hike along the 1,100 mile long Pacific Crest Trail in an attempt to recover from recent traumas in her life, including her divorce and her mother's death. Spending the majority of three months alone, Cheryl is given plenty of time to gather her thoughts and properly mourn the end of her old, dysfunctional life, and greet what she hopes will be the beginning of a new one.
Writer Nick Hornby (most well-known for About A Boy) has produced a wonderful, wonderful script for such a powerful story. Less than ten minutes in, it is clear that Hornby and Vallée have created a film that will leave viewers talking. The film balances flashbacks and present moments along Cheryl's journey wonderfully, neither overpowering the other. Much like Dallas Buyers Club, the film is sometimes overwhelming, but still so difficult to turn away from. Wild has grit, heart, and an unexpected edge, three traits that should come in handy this award season.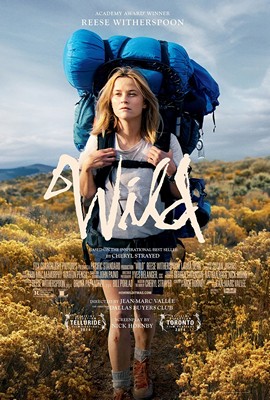 Courtesy photo
The backbone of the film is without a doubt Reese Witherspoon as Cheryl. Her performance is striking and almost haunting, balancing heart-wrenching intensity and insightful beauty with ease. The best word to describe her performance is raw. This is her best work since her portrayal of June Carter Cash in 2004's Walk The Line. It will be shocking if she does not receive an Academy Award nomination for this, especially after her nomination for a Golden Globe only one day before the film's nationwide release date.
Laura Dern's performance as Cheryl's perennially optimistic and silently strong mother, Bobbi, is as wonderful as one would expect from her, and her scenes with Witherspoon are some of the most notable in the film. Another wonderful performance comes from Thomas Sadoski, playing Paul, Cheryl's ex-husband. Sadoski has always deserved more credit than he receives, particularly concerning his exceptional performance in Wild. The three lead actors each showcase human emotion in different, gorgeous, praiseworthy ways.
At two hours on the dot, Wild has a breathtaking story arc, never dragging. It leaves a few questions unanswered, but it's more of an artistic choice than a lazy one. After watching it, viewers will feel like they know Cheryl Strayed, and they know her story, which is the most important thing. The film is surprisingly beautiful in many ways, all worth applauding.