Boys basketball seeks to develop chemistry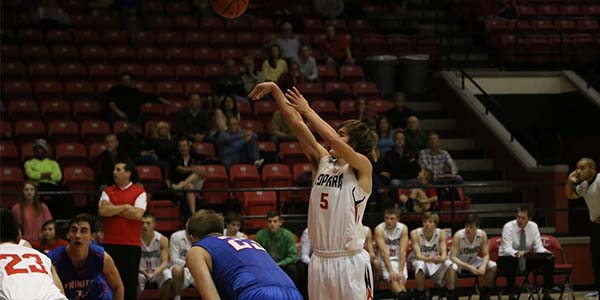 With the freshmen, JV, and varsity teams having just started their season, positivity and hope for success are common themes throughout the program.
"One of the things that I love about coaching is to take the different personalities and skills that each player has and form them into a team," head coach Kyle Herrema said. "We are really excited about younger, up and coming players in our program. We have a lot of talented underclassmen and it is a lot of fun to see what the future holds for these players.
With the season having just begun, Herrema is focusing on getting the team on the same page.
"At this point chemistry isn't always where it needs to be as we have a lot of players moving in from football and so it takes time to build some cohesion," Herrema said. "It takes time to build chemistry but I believe we've got great kids who will learn to adapt to each other pretty quickly. In terms of where we need to improve, we have to do a much better job of taking care of the ball and communicating defensively. The good thing is that both of these areas are very correctable."
Although the team hopes for a strong start, Herrema put together a pre-district schedule that won't be easy.
"It is always nice to start the season out with some positive mojo but just as important to really challenge the boys with a tough schedule," Herrema said. "You only get better by playing tough teams and finding out areas where you need to improve. If you play inferior opponents, you sometimes are able to gloss over your weak points."
Perhaps the best thing about the start of play – anything is possible and that's something that has Herrema ready for whatever may come.
"We are very excited to start the season," Herrema said. "We have a lot of positive energy and kids with a great work ethic. It should be a fun year."