The Theory of Everything is a hit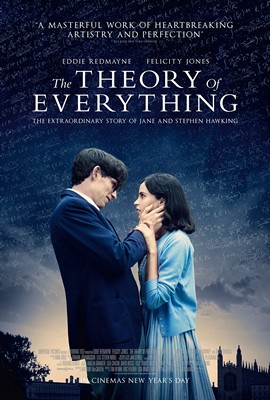 Biopics are always a hit or miss. Films like The Social Network were a hit and Jobs was a miss. The Theory Of Everything was on the hit scale, beautifully telling the story of physicist Stephen Hawking's personal life, particularly his marriage and the troubles Stephen and his wife Jane must face due to his battle with ALS.
Based on Jane Wilde Hawking's book Traveling To Infinity: My Life With Stephen, this film, directed by James Marsh, is about Stephen and Jane's romance that began at Cambridge University in 1960s England. The two decide to carry on with their relationship, despite the fact that doctors have told Stephen that he only has two years to live.
The script written by Anthony McCarten is honest, touching and reveals the many complexities of marriage without making it melodramatic or similar to a soap opera. The film is the perfect length, never wasting a moment. Romantic and simple, the story is something that seems difficult to create successfully in film these days.
The standout performance in the film was without a doubt Eddie Redmayne as Hawking. He portrays ALS (then known as Lou Gehrig's disease) incredibly and he doesn't make Hawking look like the type of man that viewers should pity. Redmayne has that spark in his eye throughout the film, making you hope for the best for him without simply feeling sorry for him. Felicity Jones' portrayal of Jane is simply lovely, bringing a gentleness to the role that very few other actresses could. The two have such particular on-screen chemistry and it truly carries the film.
Other aspects of the film including Jóhann Jóhannsson's score and the sets were wonderful, helping bring the story to life. The costumes, ranging through many years, were especially wonderful, including the many shades of blue that Jane wore in the early days of their romance. All in all, every aspect of the film helps prove that this is an unusual love story, definitely not the sort that Hollywood is used to.
This film deserves attention during award season, even from the Academy, particularly for Redmayne's portrayal of Stephen Hawking. It was certainly worth seeing as The Theory Of Everything is simple, never dull, and always lovely.