The importance of soccer in Italy
It is hard to explain what soccer means for Italians. For some people going to the stadium to see the weekly game is more important than going to church. Actually, in some cases it becomes like a "religion" as there is a popular saying: "soccer is the only religion with no atheists."
While the game is going on, there is nobody in the streets: no people, no cars, no traffic, all is silent until the first goal is scored.
"Soccer is the only form of eternal love that exists in the world," Italian writer, director, and actor Luciano De Crescenzo said. "He who supports a team will support it forever. He could change his wife, his lover and his political party, but never his favorite team."
Unfortunately Italian soccer has two dark sides: corruption and ultras. Because of the great amount of money that circulates within soccer (hundreds of millions of euros), it is a fertile field for corruption. In 2006 a big scandal came out showed a thick network of relations between team managers and referee organizations. It implicated league champions, Juventus, and other major teams (including AC Milan, Fiorentina, Lazio, and Reggina).
Nowadays this scandal is partially resolved, but there is still a lot of distrust for referees and the teams that were involved.
Ultras are probably the worst problem related to Italian soccer. They are a type of sports fan (supporter) renowned for ultra-fanatical support, occasionally to the point of violence and hateful chants and slogans. The behavioral tendency of ultras groups includes the use of flares (primarily in tifo choreography), vocal support in large groups and the displaying of banners at football stadiums, all of which are designed to create an atmosphere that encourages their own team and intimidates opposing players and supporters. They are very common in Italy, every soccer team has at least one ultras group.
Unfortunately when their behavior falls into violence it always causes big problems: in the best case there is just a brawl easily managed by the police, but sometimes this is not enough. In the last 50 years, 22 people died in Italy because of extreme soccer supporting: the last one, Ciro Esposito, a Napoli's supporter, died only four months ago, June 25, after being shot in Rome, before the final game of Coppa Italia, by a Roma's ultra.
Think of football in Texas and you have soccer in Italy, but soccer is much more important with more enthusiasm behind it than football. It's a passion, a love, a belief and it's something that will always be in my life.
About the Writer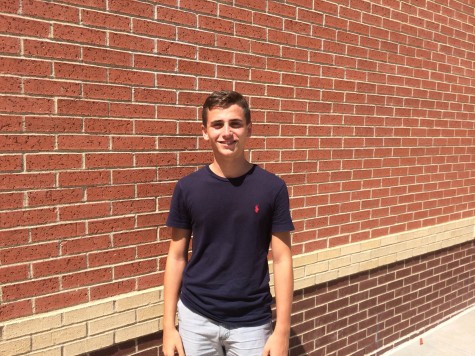 Flavio Squartini, Multimedia Reporter
Flavio Squartini is a junior; he is also a foreign exchange student from Rome, Italy and he is very excited for this new adventure. This is obviously his...