Volleyball sets off on playoffs with high expectations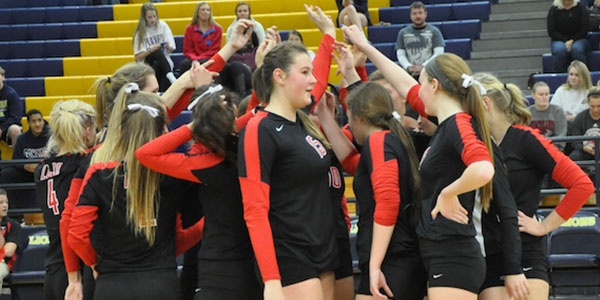 The Leopard volleyball team has a legacy of making deep playoff runs with 5 straight state titles from 2008-2012. This year, the team lost its first district match since 2007, a streak of nearly 100 games. No matter which way you look at it, the team is the most successful program on campus with anything less than a state championship a disappointment to some fans. However, the weight of expectations is not being felt by this year's team.
"We don't talk about it a whole lot, obviously with me being new to the program," head volleyball coach Jason Nicholson said. "If the girls have that, they don't discuss it with me much. It doesn't come up in the top of conversation. I guess we all know the legacy the program has done and that can work both ways."
Instead of expecting to make another deep playoff run, the team realized they would have to work hard to make it happen.
"It can put pressure on you and it can also make you think we are supposed to do it as opposed to working hard and getting there," Nicholson said. "I think the girls are taking it day by day, match by match, we realize we have to take it one step at a time."
Late in the season, the team suffered two losses to Prosper, dropping the Leopards to the number two playoff seed from District 10-5A. Going into the opening round playoff game Tuesday against Frisco Wakeland, the confidence level is lower than normal. However, Nicholson is hoping the team gets their spark back early in the first round.
"The two losses to Prosper gave us a little bit of a black eye," Nicholson said. "Just the way that we lost I think the confidence is down just a little bit, but I'm hoping Tuesday night we come out, get a good start, and kind of get our confidence back."
Although he sees a lack of confidence recently, Nicholson feels like the two losses give the team an opportunity to learn from their mistakes and work harder.
"Our confidence is still good even though we have lost the last two to Prosper," junior Sarah Langs said. "It gives us the motivation to work harder in practice these next few days."
Senior Emmaline Stockton, who has been battling an ankle injury, will be ready to go in Tuesday's playoff matchup.
"Having Emmaline Stockton out has been a little bit of a challenge," Nicholson said. "She is such a solid, consistent player for us. I think having her not be able to do a whole lot because of the ankle injury kind of shook everybody a little bit, but she'll be back 100 percent tomorrow night."
But no matter who is on the court, the shadow of the program's history looms large.
"The pressure is definitely always there," junior Jordan Fate said. "Not just in playoffs but even with district titles and all. But I think since most of varsity is new, it adds a little more pressure to them since it will be their first time in a playoff atmosphere. But the returners on varsity made it very clear that state is the main goal. There is pressure, but we try to make it more exciting than anything."
While the team wanted to beat Prosper, Nicholson doesn't think playoff seeding will mean a whole lot.
"Our region, with Frisco being opposite of us, I don't think it is an easier route," Nicholson said. "Getting second takes us on the opposite side of Frisco Centennial which has been the region favorite since the beginning of the season started. Everyone felt like they had the team to beat, but Frisco got second out of their district, so they're just as strong."