Nightcrawler fails to thrill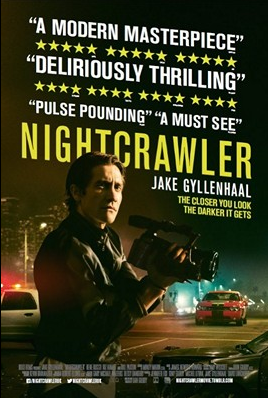 Some films are quite the gamble. Maybe they have the actor, but not the director, or they have the money, but not the screenplay. Nightcrawler had the right actor, but not the right director/writer. As a result, this thriller was an extreme disappointment.
Nightcrawler is about the overly ambitious Lou Bloom (Jake Gyllenhaal), who gets involved in independently following crimes and filming them, selling them to local news stations in Los Angeles. As the story progresses, Lou becomes more and more obsessed with success, going to extreme lengths to outdo any other cameramen in the area with the perfect footage.
This disturbing flick was the directorial debut of Dan Gilroy, writer of of The Bourne Legacy and Real Steel, and it was a mess. Gilroy had big shoes to fill with what could have been an interesting plotline and it seemed that the entire film simply didn't fit right for him.
The screenplay was probably the film's biggest problem. The film started slow and the beginning could have been condensed to fifteen or twenty minutes easily, but instead dragged on to make sure that the viewer really understood what was going on. It was effortless to get distracted from the storyline because it would always take a while for it to even actually get anywhere interesting plotwise. On top of the snoozefest of a plot, there was no character to root for, and although most characters were interesting, the lead in particular, they each got quite boring after the one hour mark. The plot was sadly predictable, and was rarely entertaining enough to even motivate viewers to stick around.
One of the few redeeming qualities of the film was the cast. This truly was one of the best performances Academy Award nominee Jake Gyllenhaal has given in years. He truly seemed to know this psychological damage very well, and any faults in the performance were not his own, but instead were because of poor writing or poor direction. Other pleasant performances included Rene Russo, the news veteran that is intrigued by Lou's skill, and Lou's assistant, Rick, played by Riz Ahmed. It seems unlikely that this film will get any buzz at award season, with the exception of possibly Gyllenhaal. If the film does get any award buzz, it certainly is not worthy.
Overall, it was simply exhausting to watch a character that is the scum of the Earth, like Lou, descend into madness over the course of an hour and fifty-seven minutes. Nightcrawler was unapologetically cynical and certainly had potential, but sadly did not cut it.