Girls basketball begins with a new dynamic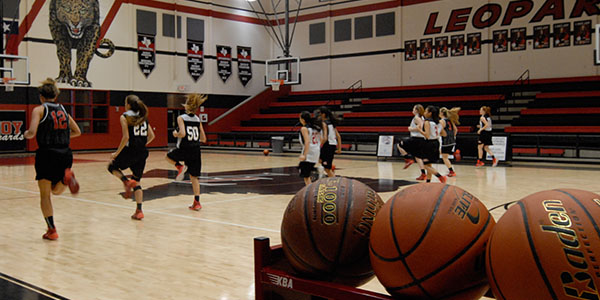 The nature of high school sports dictates that rosters will usually see significant changes from year to year. That's certainly the case for the girls varsity basketball team as it starts practice for the 2014-15 season under new head coach Lance Boxell.
"We are returning four varsity players and three of them are seniors so the team will be really young and we will not be as experienced as our competition," Boxell said.
This new team will bring about challenges that haven't been faced in previous years.
"We will have a really young team this year, so it will be really hard to compete with teams that have been together for a longer period of time," senior Rachel Hise said. "They will have the advantage of knowing each others style of play really well."
Featuring just three seniors, the team will have a heavy freshman presence who are more than roster fillers.
"The freshmen add a good work ethic to the program," senior Samantha Odom said. "They follow directions really well and they don't ask why we do things, they just do them. They are really coachable. They are also quite talented, so that will be good for the varsity team."
With all the changes that the team will be seeing this year there is more pressure than ever on the seniors to pick up the slack.
"We will have to lean on the seniors to provide much needed leadership for the younger players on the team because they have been playing much longer," Boxell said.
"I plan on leading the team by example," Odom said. "I am also a vocal leader on defense so I will help the girls with rotations, like I'll tell them where to go or who to cover."
As far as the younger players on the team are concerned, they are ready for the challenge.
"This season, I hope to be a valuable asset to the team," freshman Kaylee Rekieta said. "I want to older players to be able to rely on me. My ultimate goal for this season is to help my team go to state."