Friday night Halloween lights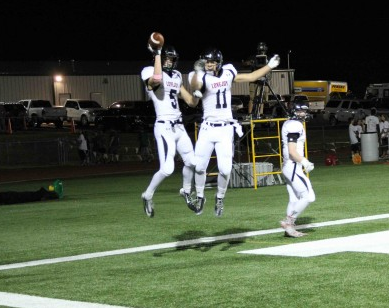 Halloween gets put on hold for football players this year as the teams travels to Wylie to take on the Pirates in a critical District 10-5A game.
"I'm glad that if I have to miss Halloween, I get to play something I love," football player Bumper Pool said.
Although the players have no say in what they will be wearing, they are looking forward to seeing the crowd.
"I am excited to play on Halloween and I hope people will dress up for the game," junior Nick Parker said.
With the game taking place at Wylie, there may be less of a crowd as younger fans may be out trick or treating.
"I don't go trick or treating so it doesn't bother me too much," senior Adam McDaniel said. "I think that it will be an issue for the younger kids who come watch the games."
Missing out on traditional Halloween festivities isn't the ideal situation for some players, but alternative plans are being made.
"I am very upset that I will not get a Halloween," freshman Chase Van Wagoner said. "I will probably hang out with my friends after the game ends."
Check out the interview below with head football coach Ryan Cox for a preview of Friday's Halloween game against Wylie.