Boys basketball preseason trains players physically and mentally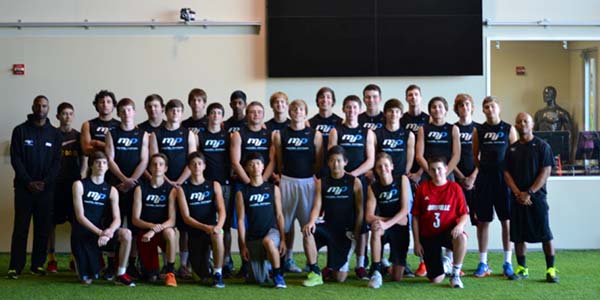 Jump shots, layups, and dribbling are a few things that come to mind when thinking about basketball but with these skills comes the need for each individual player to be in their best possible physical, as well as mental condition. To improve both the physical and mental aspects, the boys basketball program is doing preseason training at the Michael Johnson Performance Center in McKinney.
"I like that the boys are getting additional work in preparation for the season," head varsity basketball coach Kyle Herrema said. "MJP has done a great job of seeing some of our shortcomings and having prescribed workouts to turn those deficits into strengths. I can already see a difference in our explosiveness, flexibility, and range of motion."
Herrema believes drills at the facility will translate onto the court in game time situations.
"Much of basketball is based on your first step explosiveness both offensively and defensively," Herrema said. "With the improvement I've seen, I think it will help us become better drivers on offense and also better defenders. We are already seeing gains in the boys' vertical jumps which will definitely help us rebound better."
The training opportunities at the MJP Center extend to those recovering from injuries.
"It is completely state of the art, which is great for all of our athletes, including those recovering from injury," Herrema said. "We have had a number of kids who have been working on the underwater treadmill that allows them to get the conditioning they need without the impact of a standard treadmill.
Players have high praise for the facility, acknowledging the benefit of the work.
"MJP's motto is to do the little things right and I think this really helps basketball players who usually work at a fast tempo to slow down and correct the details," JV player Abhinav Devalla said. "A lot of the drills are designed to help players on the court. Even if a drill seems like it has no correlation to the sport, you can ask the coaches and they'll explain how it relates. Most of the drills are extremely helpful and all translate on to the court."
With just a few days until the team begins practice, Herrema is impressed with the facility.
"We are really impressed with the detail and energy of the coaching staff," Herrema said. "They are passionate about their work and really love to see the improvement in each athlete. The facility is absolutely amazing."