A good time on a bad day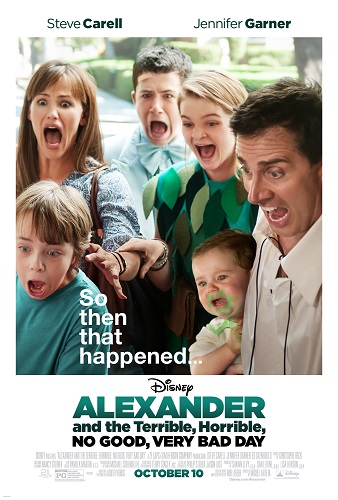 Alexander and the Terrible, Horrible, No Good, Very Bad Day is a terrific, hilarious, very good movie. This Disney film based on the children's book by Judith Viorst was cute and fun for the whole family.
This film puts a twist on the book and tells the story of Alexander making a birthday wish- for his busy, self-absorbed family to know what it's like to have a terrible day (or, according to Alexander, a terrible life)- that comes true. From there chaos ensues for the entire family except Alexander, who is about to have the birthday party of the year.
Every actor does a nice job of blending laughs and touching moments. Steve Carell and Jennifer Garner play a terrifically frazzled couple without missing a beat. Similarly, the two oldest children, played by Dylan Minnette and Kerris Dorsey were two perfect stereotypical teenagers that will leave audiences members of all ages laughing. The weakest link in the family was surprisingly Alexander (Ed Oxenboul), who, at only twelve years old, lacked entertaining qualities and variety in his performance.
The movie was surprising. At the perfect length of 80 minutes, it was entertaining and never got boring, thanks in part to animal mayhem, the perfect amount of shock value, and appearances by Dick Van Dyke and Donald Glover. For a children's movie, it was quite entertaining and is the best family movie out right now.