Unusual cheer tradition explained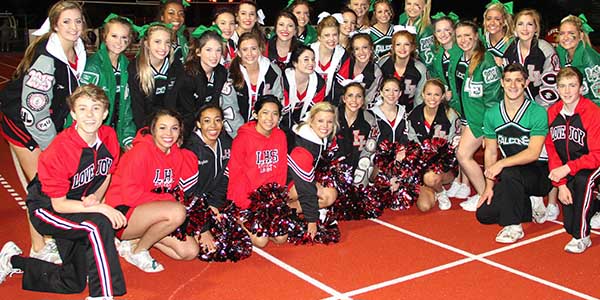 Every Friday night, at the Leopard's football game, the varsity cheerleading team take a visit to the opponent's sideline to cheer with the opponent's cheerleaders and vice versa.
"We go over to the other side to make them feel welcome at our school and introduce our selves," junior cheerleader Jillian Duncan said. "The cheerleaders are super nice and we get along."
While the cheerleaders have a good time interacting with the other team, it's a tradition that is often overlooked by fans.
"The other student section most of the time doesn't really pay attention or care," Duncan said. "But we have lots of fun with the other cheerleaders."
Both cheerleading teams get to learn the traditions and customs of each other.
"It's a lot of fun you get to know the other teams traditions," senior Emily Norwood said. "We both come together to do a cheer and an activity."
This takes place every week and is a tradition across the country.
"Right after half time, the girls go across to the other sideline and they do a cheer or learn a new cheer with the other team just to get to know them and have fun," cheerleading coach Jennifer Leary said. "We have been doing this for the last three years, and when I was a cheerleader in high school we did the same thing, it's just a tradition."