Princess and the Moon exceeds expectations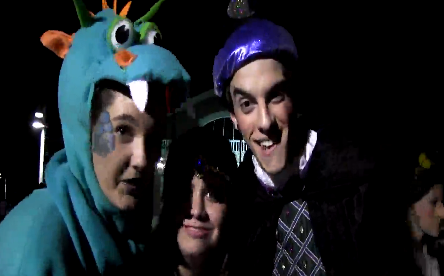 A princess that wishes to be a knight, a dragon with a cold, and a rebellious herald; all this and more made the debut of The Princess and the Moon a satisfying success.
The family friendly production tells the story of Princess Lizzy (senior Kamie Lloyd) who wants nothing more than to be unique by becoming a knight. With the help of her dragon, Herbert (sophomore Chrissy MacQuilkan), Lizzy embarks on a journey to do the impossible: go to the moon. Along the way Lizzy and her friends face many obstacles to reach her goal.
The cast of the entire show was fantastic, with each actor bringing something different and intriguing to the story. Hilarity and touching moments blended flawlessly throughout the production. There were very few mishaps or dull moments, which is impressive for the opening the night of a show.
Lloyd, MacQuilkan and senior Ben Meaders, most definitely carried this show with some of the best performances of their high school theatre careers. These three captivated audience members of all ages for the entirety of the hour and thirty minute show with their wonderful chemistry.
The technical work throughout the play was commendable, including lovely backdrops, clear sound, nice lighting, and fairy tale costumes. There were a few mistakes as far as technical work goes, and when there were, they were handled with ease or simply went unnoticed.
The Princess and The Moon was certainly worth watching. This show was magical, hilarious and touching, as any fairy tale should be.