Theatre's fall production to premiere Thursday
The curtain rises Thursday night for the first theatre performance of the year. "The Princess and the Moon" premieres at 7 p.m. in the auditorium.
The Red ledger's Haley Brown caught up with senior Ben Meaders to talk about the show.
The Red Ledger: Ben, what role do you play in "The Princess and the Moon"?
Meaders: "I play the role of the Herald who tells the story as it happens. he is basically the story teller."
The Red Ledger: Can you tell me about how the rehearsal process has been coming along?
Meaders: "It's been alright. It's a little difficult because it is the first show of the year and we don't have a whole ton of time to work on it, but it is really nice to see everyone buckle down and try to get a show together as soon as possible and try to have a quality show when they are done."
The Red Ledger: How is the rehearsal process for a childrens show different than any show you've done before?
Meaders: "It's a lot different. Especially because when we are given notes, instead of being told to go deeper and explore the character we are told to be louder and bigger and really make sure we are understood and really interact with the kids."
The Red Ledger: Can you describe your experience acting with a large cast of new freshmen?
Meaders: "It's nice. I like getting to know a lot of new people and I didn't really know the freshman as they showed up, but I've made a friends with a lot of them. I'm excited to see how the theatre program goes after I leave."
The Red Ledger: How has this process helped you grow as an actor?
Meaders: "It has allowed me to make bigger risks and bigger choices, instead of making subtle movements I do everything and show all of my emotion outwardly in a very obvious way."
The Red Ledger: How would you describe your full experience with "The Princess and the Moon"?
Meaders: "I've had a lot of fun, and I cannot wait for opening night. It's going to be a blast."
About the Writer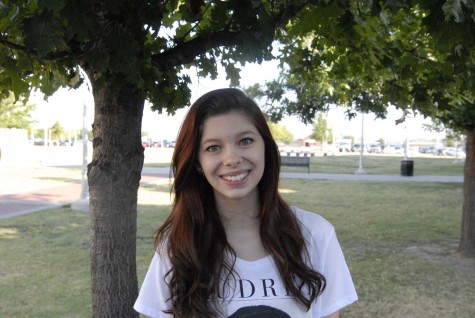 Haley Brown, Staff Reporter
Haley Brown is best friends with Michelle Leddon. She has no unique personality traits. She is simply a less cool version of Michelle. If you want to know...