Football bonds away from the field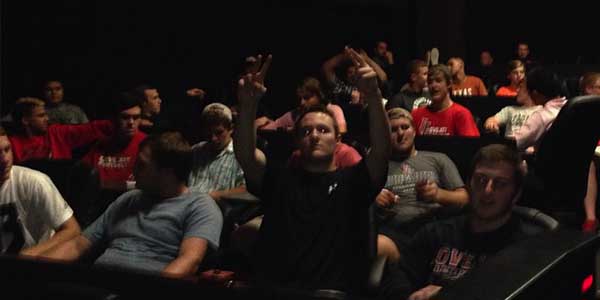 With an 0-3 record, the Leopard football team has been emphasizing coming together as a team away from the practice field. One of the many things the team has done to come together is last Thursday's trip to Studio Movie Grill to see the movie When The Game Stands Tall.
"Anytime a team can spend time together outside of the practice or game environment it is helpful to building relationships among the players," running back coach Jason Jaynes said.
The team loaded up two busses and made their way to the theatre. On the way there, head coach Ryan Cox challenged each bus to come up with a song to perform when they arrived at the movie with the better performance getting first pick on seats.
"Each bus was required to come up with a song to sing as a "competition" but really it was just an opportunity to come together and bond," senior linebacker Mac Metzler said.
Once seated, the players ordered their meal and the movie began.
"The movie inspired us to come together as a brotherhood and be there for each other on and off the field," senior captain Dan Cole said.
The movie gave players the message of doing what is best for the team and not what is best for themselves.
"The message the players got  was that being on a team is much more important than winning and losing games," Jaynes said. "It's about doing your part in giving a perfect effort as an individual and trusting your teammates to do the same. It was about doing the right thing at all times, and knowing the power of trust."
Hear more from the football team in the SoundCloud below: