Preachin' the Gospel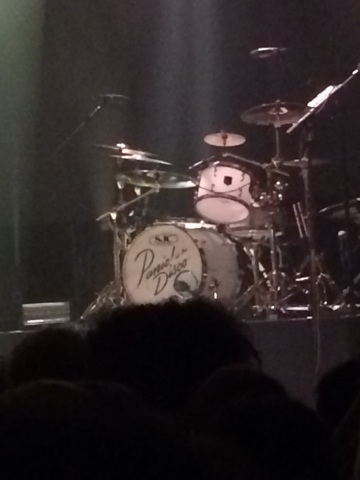 Escaping the heat, music fans fled inside the South Side Ballroom on August 22 to catch The Gospel Tour with Panic! At The Disco, Youngblood Hawke and Walk The Moon. It was a summer interlude well worth the trip to downtown Dallas.
Paced by the showmanship of lead vocalist Brendon Urie, headliner Panic! At The amped up the energy. Starting off their groove-inspiring performance the band played a fantastic mix of classic fan favorites ("Time To Dance") along with songs from their latest release "This Is Gospel," and a jaw-dropping cover of Queen's "Bohemian Rhapsody".
Vocally, Brendon Urie was much stronger than anticipated, hitting notes that most male alternative singers wouldn't dare to hit on a song. Urie was stunning musically and visually, making eye-catching facial expressions, twirling his microphone in between songs and doing backflips off of risers during songs including the daring crowd pleaser, "Miss Jackson." His enthusiasm toward both the crowd and venue were reaffirmed constantly throughout the performance when he claimed that this was one of the best shows of the tour and when he laughed after the end of a track while the audience was still cheering and screaming and said, "You guys make me so happy."
The band ended the night with their first single, "I Write Sins Not Tragedies" that  left the crowd wanting more.
As far as the other acts on the bill, Walk the Moon developed a strong connection with the audience highlighted by the single, "Anna Sun" while Youngblood Hawke kicked things off with intriguing and catchy tunes from their debut album Wake Up.
Sure it was hot outside, but inside it was a satisfying and memorable night with  Panic! At The Disco the highlight of the evening.