Buffett performs at drive-in theatres across the nation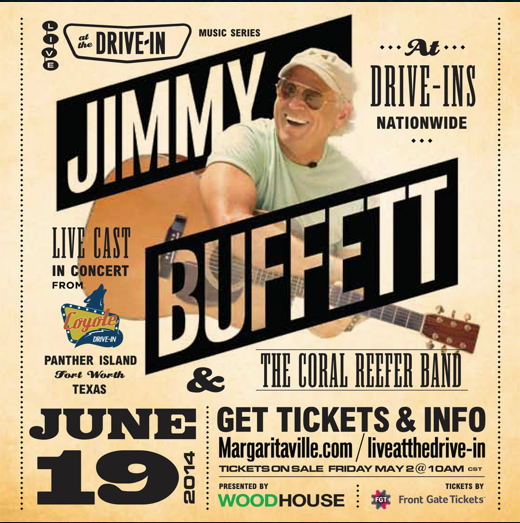 Drive in movies were introduced in 1930s and the from then on movies and cars were a 20th century 'power couple'. Now, America's popular past time, music, is the new drive-in event.
"I didn't know they could do that but sign me up, I would love to go," senior Keirsten Lindelof said.
American singer-songwriter, Jimmy Buffett is spreading this new form of concert this summer. On June 19th at the Coyote Drive-In theater in Fort Worth, Jimmy Buffett and the Coral Reefer Band will be performing their Margaritaville concert. This concert will be broadcasted live to drive-ins throughout the nation.
"I have heard about it," senior Joel Bryant said. "He's definitely got some greats like '5 O'clock Somewhere', 'Margaritaville', 'Cheeseburger in Paradise', stuff like that."
The live concert is sold out, but drive-in tickets for various venues are still available.
"A concert while at a drive-in is bound to be something pretty successful," Lindelof said.
67 year-old Jimmy Buffett landed his first record contract in the 1970s. His folk/island music has caught the ears of older and high school music lovers, which should bring many different types of listeners to his concert.
"I remember, Jimmy Buffett was the first concert I ever went to," senior Maddie Pool said. "My family and I went to see him when we were visiting my grandparents in Ocean City, Maryland. He made my first concert memorable and him doing this first ever drive in concert doesn't surprise me; he's awesome."
The June concert is in the middle of his Margaritaville tour. Just two days after this drive-in  performance, Buffett will travel to the Toyota stadium in Frisco and continue his tour which began May 27th.
"I bet this idea will be awesome for him," Pool said. "He put on a great concert years ago, so I'm sure it wil be just as great if not greater now."
The tickets for the live performance in Fort Worth have been sold out, but at Buffett's website there is information on the nearest drive-in for people to see the broadcast. Along with ticket information, are details of the rest of his concerts and anything Buffett related.