Sewing a new wardrobe
For many high school students appearance is a top priority. Students often struggle with finding just the right outfit and some even desire to design their own. For freshman Elizabeth Howell, this dream has become a reality as Howell sews her own clothes.
"I've made approximately fifteen garments and a lot of pillow cases," Howell said.  "The garments i've made include pj pants, skirts, and dresses, and hopefully I can expand my knowledge with time. I wear my outfits whenever I can; it all deals with timing."
Eager to earn a specific sewing patch, Howell began sewing lessons at the age of nine.
"The lessons my mom heard about were actually from Louise King, she works here at school," Howell said. "She calls it sewing camp. She held the lessons at her house every summer."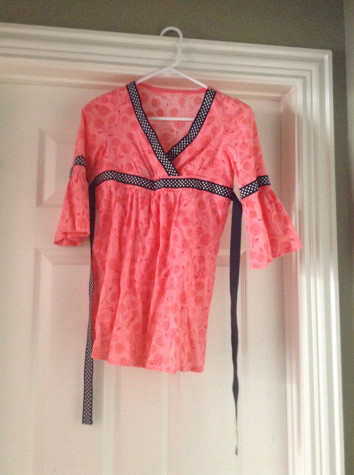 King has been hosting this camp for many years, not only for an extra income, but also because it is her passion.
"I teach my sewing camp because I love to sew," King said. "I have a lot of fun helping students learn something they really want to learn. I have sewn since I was in 6th grade and was a clothing designer in New York City for 17 years after graduating from Oklahoma State."
Howell has now been attending King's camp over the summer for six years; attending three sewing camps per summer.
"You make new friends with the same interests with you at the camps, and myself being older, you can help teach the younger kids," Howell said. "Shopping for the materials is always fun; we all go together on the first day of camp. Designing , especially dresses, is really fun."
Sewing did more than help her earn a girl scout badge. It is also a big part of Howell's family.
"My grandmother had given her sewing machine to my father to keep until I was old enough," Howell said. "It was almost like she knew, and my dad gave it to me and I just went from there."
Howell makes the garments for various reasons, whether it be for a school dance, a school play, or just for fun. Each project takes a different amount of time, ranging from just a few minutes to weeks.
"Last summer, I made my homecoming dress in about 3 days," Howell said. "Pj pants take me 15 minutes, and the fancy shirt I made took me about a month. The timing depends on my skill, the difficulty of the project, the shopping time, and my focus."
The process starts out with choosing what to make,then Howell buys the fabric, patterns, and other materials. The inspiration for these projects often come from what Howell sees in her day to day life.
"Sometimes a picture or painting catches my eye, so I replicate it or improve it," Howell said. "I make it a physical object that I can enjoy."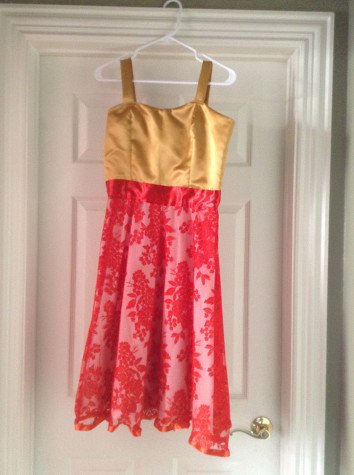 Designing clothes, whether it be modeled after a picture or an original idea, often turn into long, tedious projects, requiring Howell's full attention
"You have to be really focused when you are working on a project or you will mess up," Howell said. "You must be careful and focused and in the zone at all times to prevent mistakes from happening."
With today's technology and the challenges that come with it, less and less people have the skills to sew and repair clothing, and many that do consider it a chore.
"I think, as many others do, that sewing is becoming a lost art," Howell said. "I wish more people did it at least recreationally! It is super fun and a great way to express yourself, and it is something to take pride in."
Some of these skills can be very important and can have many benefits in the future.
"I think it's a valuable skill, it teaches patience and satisfaction in making something useful," King said. "At the very least, people need to know how to sew on a button that falls off their shirt, or repair a small rip in a hem.  This saves them time and money."
Howell plans to use her skills for the rest of her life, whether it be for her family , for fun, or even as a source of income.
"If I have kids I will definitely make clothes for them," Howell  said. "I don't know if I will turn my hobby into a business; I am also very interested in astronomy and I think it would be amazing if I got to work for NASA, but it is definitely my fallback trade, and I won't stop sewing even if I do get a different job."
Howell believes that designing and sewing her own clothes is a very rewarding and useful hobby, and that despite the challenges, it's worth it.
"My favorite part is finishing a big project you've been working hard on for a while and getting to wear it proudly,"
Howell said.
Below is a Prezi with instructions on how to sew a pair of pajama pants: