Spring testing calendar
The spring testing season will amp back up on Monday, May 5. Below is a list of all testing dates.
Spring Testing Calendar 2013-14
DATE
TEST
GRADE
Tues 5-6
Algebra I STAAR
9
Wed 5-7
Biology STAAR
9
Thur 5-8
US History STAAR
11
Fri 5-9
STAAR make up
Mon 5-5
AP Chem 8 AM
n/a
AP Psych 12PM
n/a
Tues 5-6
AP Comp Sci 8AM
n/a
AP Span Lang 8AM
n/a
AP Art Hist 12PM
n/a
Wed 5-7
AP Calc AB 8AM
n/a
AP Calc BC 8AM
n/a
Thur 5-8
AP Eng Lit 8AM
n/a
Fri 5-9
AP Eng Lang 8AM
n/a
AP Stats 12 PM
n/a
Mon 5-12
AP Biol 8 AM
n/a
AP Music Theo 8 AM
n/a
AP Physics B 12 PM
n/a
AP Physic C 12&2PM
n/a
Tues 5-13
AP Govt 8 AM
n/a
Human Geo 12 PM
n/a
AP French 12 PM
n/a
Wed 5-14
AP US Hist 8 AM
n/a
AP Euro Hist 12 PM
n/a
Thur 5-15
AP Whist 8 AM
n/a
AP Econ 8 AM
n/a
Fri 5-16
AP Span Lit 8 AM
n/a
Tues 5-20
5th and 7th Sem Exam
12
Wed 5-21
6th and 8th Sem Exam
12
Thur 5-22
1st and 3rd Sem Exam
12
Fri 5-23
2nd and 4th Sem Exam
12
Tues 5-27
3rd and 7th Sem Exam
9, 10, 11
Wed 5-28
2nd and 6th Sem Exam
9, 10, 11
Thur 5-29
1st and 5th Sem Exam
9, 10, 11
Fri 5-30
4th and 8th Sem ExAM
9, 10, 11
About the Contributor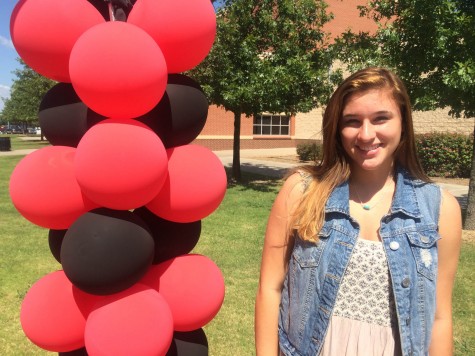 Michelle Stoddart, Managing Editor
Michelle is a junior who is deeply involved in activities both in the school and out of the school. As Captain of Extemporaneous speaking for the Debate...