Senior wins roommate lottery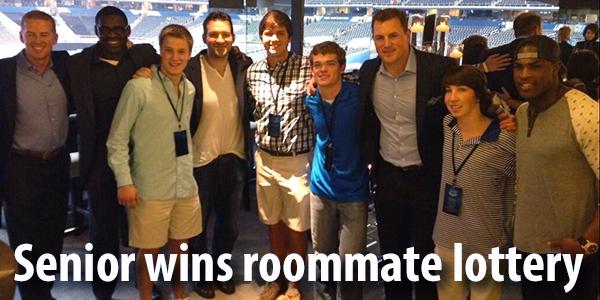 With less than eight weeks left in the school year, seniors are wrapping up their high school career and have begun to anticipate all the new experiences, thrills, and challenges that college will bring. One of the most exciting and important factors for incoming college students is finally getting to meet their future roommate. For senior Reed Walstad, this reunion turned out to be more than just an awkward encounter, and instead was a once in a lifetime experience that will never be forgotten.
"One of my roommates is Jerry Jones' grandson and he surprised me and my other roommate with passes into the owner's suite for the Final Four games," Walstad said.
This was not just any suite, and packed inside were numerous athletic legends and celebrities. During the first game the suite contained Jerry Jones, Troy Aikman, Jonny Manziel, Willie Robertson, Jep Robertson, Sadie Robertson, Jeff Long (University of Arkansas athletic director), Charlotte Anderson, Steven Jones, John Schnatter (Papa Johns CEO), Drake, and Jason Witten. At Monday's game, Walstad got to meet Michael Irvin, DeMarco Murray, Tony Romo, Jason Garret, Bill Clinton, Laura Bush, Candace Romo-Crawford, Donnie Nelson, Mitch Raymond, Ray Allen, and George W. Bush.
"I was freaking out. I couldn't contain my emotions," Walstad said. "It was the most incredible and indescribable experience."
Having so many famous people all in one room could be overwhelming and incredibly exciting, but some people stood out in particular for Walstad.
"Sadie Robertson stood out to me the most because she's been my celebrity crush ever since she appeared on the show Duck Dynasty," Walstad said.
Aside from meeting countless celebrities, Walstad also got to meet his roommates, making the night even more significant.
"The fact that I got to meet my other roommate and it was in Jerry Jones' suite has made it one of the best memories ever," Walstad said.
After experiencing something like this together, Walstad and his roommates have begun to develop a relationship that will last for many years to come.
"This was the perfect way to bond as roommates and to get us to talk and get to know each other," Walstad said. "I think this will have a positive impact for our friendship in the future."