Communications
March 13, 2014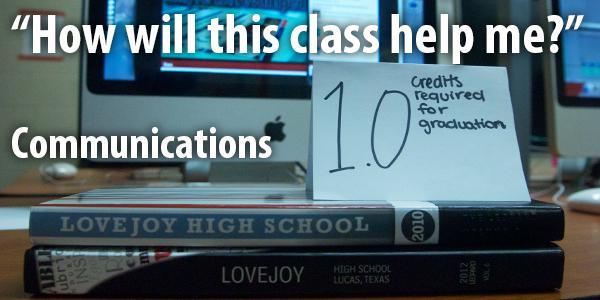 Even with advances in technology, competition from rising nations and the ever-constant shadow of globalization looming over students' shoulders, one key component of education has remained constant in the curriculum of schools across the nation: communication.
On campus, core courses and required electives such as AP English Language and Composition and Lovejoy Leadership (Speech and Communication Applications) and electives such as Journalism and Debate provide students with the skills necessary to become effective communicators in today's world. For AP English Language, students gain opportunities to learn skills that prepare them for college and beyond.
"The skills that come forth from this class are especially beneficial, especially in college," AP English Language teacher Jasen Eairheart said. "It teaches you to think, and it has a strong writing component."
In addition to communicating information, AP English Language also teaches students to be informed perceivers of information in their daily lives.
"[In AP English Language], we also use media, such as advertisements and letters," Eairheart said. "Every day we are constantly surrounded by media, whether it be music, a speech or even a love letter, and we try to get every single nuance out of it possible."
Beyond writing research papers and rhetorical analyses, students in AP Language also learn to share their ideas and convince others.
"With writing we also look at persuasion and argument," Eairheart said. "There will always be conflict in which you have to get your point of view across in the most effective ways possible."
Aside from traditional English and communications courses, students in courses such as history, government, psychology and even biology are required to read and analyze texts, communicate through timed writing assignments and major research papers, possess adequate public speaking skills to present projects to classmates and engage in a debate over a particular subject area through a Socratic seminar.
"[AP English Language] helps students with college in general, because every professor wants his or her students to be able to think and write already," Eairheart said. "[AP Language] is one of the most, if not the most, beneficial courses, holistically, to help get students through college. In college, there were very few classes where you don't write, in my experience. I had to write essays for science, history, psychology, and social science classes. I think my math class was the only course that did not require a writing assignment."
Another opportunity on campus for students to strengthen their communication and speaking skills is through the Speech and Debate team.
"Debate has helped me learn to be confident speaking in front of large groups of people, whether it be just your judge and observers or many people at a tournament," junior Abby Orr said. "When I have to give a presentation in front of many people for school, it is helpful to know how to speak clearly without getting nervous."

Loading ...
A variety of journalism courses on campus, such as newspaper production, allow students to gain practice writing news articles, editorials, features and columns that help teach them to develop effective written communication skills.
While some students participate in journalism programs to eventually go into the field, other students participate in journalism in high school and college to go into a wide range of fields including public relations, politics, government and law, blogging, social media management for companies, marketing and advertising, website design, technical and informative writing for companies and products, health education and communications, sports reporting, and grant writing and fundraising for nonprofit organizations, all which are supported by a foundation in the journalism field.
Nearly every career, however, can benefit from the writing, critical thinking, technological, leadership and investigative skills instilled through a journalism education, leaving endless professional opportunities for journalism students.
"Whether it's yearbook, newspaper or broadcast, these classes prepare students for what it's like to have a career in today's world," newspaper and broadcast adviser Brian Higgins said. "Whether it's learning how to communicate clearly to a wide variety of audiences or working as a team on deadline, advanced journalism classes help prepare students for a multitude of career options as these classes do more than simulate a work environment; they are a work environment."