Know your neighbor
Family Watchdog keeps residents informed of local sex offenders.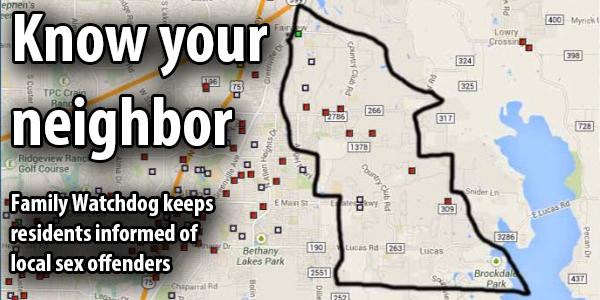 There are eight registered sex offenders in Lovejoy ISD. Of these eight offenders, three live off of Country Club road, four live in Lucas, and one lives in Fairview. All of these offenders have one thing in common: they were convicted of sex crimes against children.

"[These facts] are eye opening," district resident and mother-to-four Annemarie Barajas said. "I haven't looked at this stuff in a while and it is a reminder that sex crimes are a widespread problem and we have to protect our kids."

Although these facts are alarming, the district compares well to others. As a whole, the state of Texas has 77,614 total registered offenders. In neighboring Allen and Plano neighborhoods, there are up to five times more registered offenders than in the LISD . Many factors contribute to this, such as Lovejoy ISD's small size and higher family incomes.

[sidebar title="Sex Crime Statistics" align="right"]

•1 in 5 girls will be sexually molested before her 18th birthday.

•1 in 6 boys will be sexually molested before his 18th birthday.

• 1 in 7 children has been propositioned for sex over the internet.

• 2 in 3 sexual abuse cases are perpetrated against teenagers or younger children.[/sidebar]

"Because of the area that we are in, you have people making more money, (and that's not saying that wealthier people aren't sex offenders,) but typically if you break it down to the different economic statuses, you'll find that a lot of the offenders live in a more median-income area," school resource officer Mark Mitchell said. "You aren't going to find as many offenders in an area with $500,000 homes as one with $120,000 homes. Our district is pretty lucky."

Recent articles in the Allen American and Dallas Morning News detail the story of online solicitor and former Allen resident Joshua Leroy Karr. Karr is now in the Collin County jail, charged with sexual assault, after he exchanged more than 16,000 messages with an Allen runaway who was under the age of 18.

These facts and stories heard on the news often spark fear in adults and teens. Adults, and especially mothers, know the precautions needed when keeping their children safe from predators.

"I can say there is a fine line between making [my kids] aware and making them scared," Barajas said. "[My kids and I] have had multiple conversations as they were growing up, getting into new situations and meeting new people.  I always reiterate that they should pay attention to their instincts and if they ever get into a situation where they are uncomfortable or something doesn't seem right, to get out of it as quickly as possible, no matter if they may hurt someone's feelings or if it would be awkward."

An option for families to find information on the safety of their neighborhood is a free website called Family Watchdog. Anyone can type in their location and see where neighboring sex offenders are located in order to ensure safety when moving into a neighborhood, or making sure their pre-existing homes are safe. One can also set up notifications via the website to let them know if an offender moves near them.

"Going to these websites [such as Family Watchdog] and knowing where these people live is a good thing because you're more aware and can protect yourself," Mitchell said. "It's really hard to say what you can do to prevent an attack like [a sexual one]. The biggest thing to do is be aware of your surroundings. And it doesn't just go for females, it goes both ways because males get sexually assaulted too. Always try to be in a group, never be by yourself. If you happen to be alone, be aware. A lot of times people are concentrating on their next task and don't notice that person walking up behind them or standing next to their car."

[sidebar title="Sex Offender Statistics" align="left"]
There are 400,000 new victims of sexual assault every year.

There are more than 550,000 registered sex offenders in the U.S.

There are more than 100,000 sex offenders that fail to register in the U.S.

90 percent of sexual assaults are committed against someone the perpetrator knows.[/sidebar]
Often times, an attack happens because the victim did not suspect that the perpetrator was dangerous based off of appearance assumptions.
"I would say people probably don't know the whole picture [when it comes to sex offenders] because a lot of people have a certain image of a sex offender and it isn't true," Mitchell said. "I can't look at somebody and say 'oh that guy/girl is a sex offender' by the way they appear. People make a stereotype of these kinds of people in their minds, and that's a downfall that people don't realize or admit to."
Once a sex offender is convicted, they have to register with their local court and can face up to ten years in a state penitentiary or receive parole with no time in prison. Of the registered sex offenders in LISD, nearly 100 percent were convicted of either child sexual assault or online solicitation.
"When they get their sentences, offenders have certain things they can or can not have. Some can be around kids, some cannot," Mitchell said. "So if we go to their house and see little kid toys, then we report that to the probation department, where their probation is going to be reevaluated."
Sex crimes can happen anywhere, with constant awareness one of the best ways to prevent something from occurring.
"It would be nice if there weren't sex offenders anywhere in America," Mitchell said. "There are offenders that move and don't re-register, which is why you always, always have to pay attention to your surroundings."
For more information about Child Sexual Abuse, please visit the American Psycological Association at http://www.apa.org/pi/families/resources/child-sexual-abuse.aspx
For more information and registry on local sex offenders, please visit the Texas Public Sex Offender Registry.
https://records.txdps.state.tx.us/SexOffender/PublicSite/Index.aspx
About the Contributor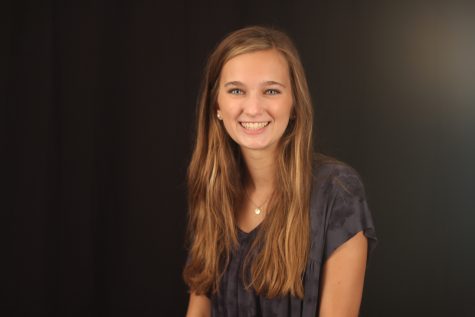 Jillian Sanders, Editor-in-Chief
Jillian Sanders is a senior, 18 years old, and a lover of many things. She loves writing, playing the piano, reading, being outside, Younglife, and choir....