Academic motivation
Randy Brooks
In an effort to excite students about their studies, PreCalculus teacher and school website manager Randy Brooks has launched a video campaign to get students enthused about taking AP classes and working hard in these coming months to perform well on their final exams and AP tests this spring.
Brooks' video is a playful parody on the popular "#BreatheSuccess"  video, which was created to encourage students to come out and support the school's football team at the district championship game in Wylie last November.
"This made me think that we need some similar motivational talks for our academic crew," Brooks said. "We wanted to push the AP classes to students. AP classes and our success on them, recognized at the Academic Banquet, is a verification by an outside system that what we are doing at Lovejoy is a valuable thing, so we built a video inspired by the athletic one that focuses on getting students motivated for AP study."
Brooks worked with the Foundation for Lovejoy Schools, who provided the equipment and video-making technology, to make the video.
Maintaining a balance for students here is a particular challenge, according to Brooks, because the school offers many opportunities for extracurricular involvement, such as athletics and fine arts, that can take up a significant amount of time and energy.
"Balancing those course loads and busy schedules is a challenge that we have here," Brooks said. "While it is important to be challenged in many different areas, it is important to balance that workload as well."
This video is only the first step in a campaign that Brooks hopes will inspire students to enroll in difficult and AP-level courses, devote time to their academic pursuits, and increase performance on standardized exams such as the SAT, ACT, STAAR, and AP tests.
"This was the fourth year to have the Advanced Academic Banquet that recognizes AP Scholars," administrative assistant Lynda Fleming said. "We invite the scholars along with their parents to a nice dinner at a local banquet facility. We have a keynote speaker that typically focuses their topic on success."
The Advanced Academic Banquet was held last month, and featured Dr. Michael Stoff, Director of the prestigious Plan II Honors program at the University of Texas at Austin, as the keynote speaker.
"All of the scholars receive a token of acknowledgement such as an embroidered blanket that they can use at sporting events or a leather portfolio," Fleming said. "National Scholars also receive an engraved plaque. This past year, we also invited the National Merit Semi-Finalists."
Additionally, an end-of-the-year academic banquet will be held this spring honoring other dedicated and high-achieving students who participate in events such as Mock Trial, Academic Decathlon, Robotics, Debate, Sport of the Mind (Chess), and Academic UIL.
"We hold an Academic Reception in mid-May for the groups that don't have banquets like the athletic teams and fine arts organizations," Fleming said. "During this event, each participant is individually recognized with a certificate and the students and their families enjoy refreshments."
In the mean time, Brooks and the rest of the faculty on campus are waiting to see if these events will be successful in getting students motivated about academics.
"With AP tests in the spring, we are really hoping to take things up a level," Brooks said. "The video was an initial experiment to see how students reacted. I've been talking with the principals about getting students motivated about academics. If what we did in the fall can get students to come to the ball game, perhaps we can do something to get students similarly excited about their studies."
About the Contributor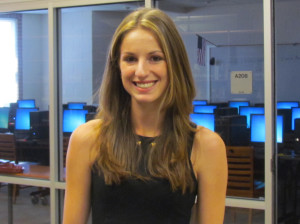 Olivia Griffin, News Editor
Olivia Griffin can't wait to use the "but...I'm a Senior!" excuse as the answer to all of life's problems. As far as college next year, she will...