Budgets on blast based on bad performance
Hang on for a minute...we're trying to find some more stories you might like.
More than 338,000 Texas students failed the 2013 STAAR tests, according to a new study. The study was conducted in the effort to support the argument of more than 600 school districts that they are not receiving adequate funding.
It stems from the Texas school funding case continued from last February, where it was ruled that the current public education financing system was unconstitutional.
"Essentially, school districts are being asked to make bricks without straw,"  attorney Mark Trachtenberg, representative of approximately 90 school districts, said last February to NPR.  "Schools need money for smaller class sizes, particularly in the earlier grades. They need money for remediation in the form of tutoring or after-school programs. They need money to retain and hire quality teachers."
Since February of last year, lawmakers have decreased the amount of high school standardized testing and increased school funding by $3.4 billion. This increase follows a $5.4 billion cut from 2011. According to the hundreds of school districts suing the state, the amount of exam failures is a direct result of not having enough resources.
"It's important to have great teachers in the classroom," attorney John Turner, representing multiple school districts, said last February to KERA. "It's important to have teachers who have manageable class sizes, who have enough time to devote to every student even students that struggle from time to time. We think that's the kind of thing these resources are intended to provide."
Despite the well-known importance of teachers, studies referenced by the Texas State Teachers Association ranked Texas the 38th state in average salary, with more than 56 percent of teachers taking extra jobs during the summer and many being paid more than $8,000 below the national average.
But even with discouraging exam scores from a large amount of Texas students and a growing demand statewide for school funds, the school's administration remains optimistic.
"For the most part, standardized tests, or state tests, we don't have great concerns about," assistant principal Bruce Coachman said. "Because the few students we have that don't do as well as we want them to, we help them with remediation. We support them and they end up doing very well. Most are on track to graduate. We are not concerned at all with the majority of our students. The majority will do very well on our tests."
Lynn Moak, educational analyst testifying on the behalf of school districts suing the state, argued in January that to meet minimum standards and eventually improve test scores, some schools would need at least $1,000 more per student. The Texas Education Agency countered in their own study that, while including some exemptions, 76 percent of juniors were on track to graduate.
But, as with standardized tests, the administration is not overly concerned with the resources given and is determined to make the best of any situation by prioritizing their efforts to ensure success.
"We have the funding that we need because we're going to make it available, because the students are our first priority," Coachman said. "It doesn't matter what else, they always go first. So if we have a need that's concentrated, we make sure that we take care of it. The state tells us what's best for what we need to do, but they don't always have the money to fund it. But they know that it's best. Do they always give us the money that they need to do it? No. But are we going to find the money and the efforts and the time because of students, yes, we will."

About the Writer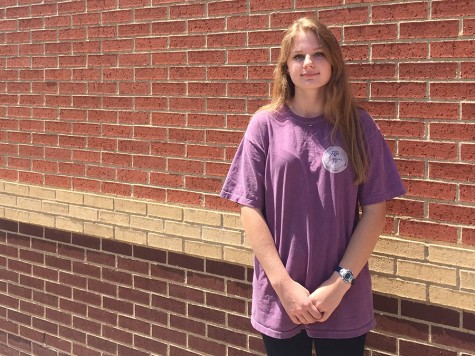 Savannah Whitmer, News Editor
As a senior, this is Savannah Whitmer's fourth and final year on The Red Ledger staff. Previously known to her devoted readers as The Only Human Ever...