Senior takes on the world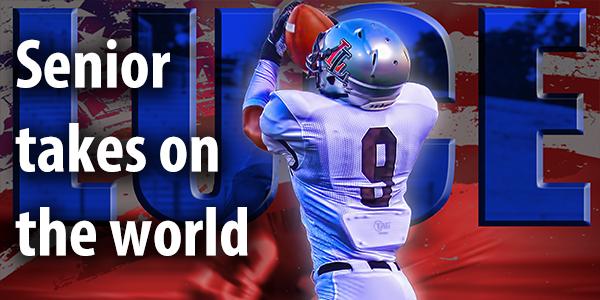 Leopard football will be represented in the International Bowl Friday, Feb. 7 at UT Arlington as senior wide receiver Chochy Lucé will take part in the high school "all-star" game pitting the U.S. versus Canada.
"Coach Green asked me a couple of months ago if I would be interested in playing in the game, and I said yes" Lucé said.
He had a season to remember as Lucé finished in the top 10 in the state (4A) in both total yards receiving and total receiving touchdowns. He also broke the school record for most receiving yards in a single game.
But game preparation for the International Bowl is unlike anything else in his high school football career. Staying in a hotel all week, it's all football, all the time.
"Every day I wake up at 7 am, eat breakfast, and then have position meetings," Lucé said. "Then we practice, have a lunch break and practice again. From there we go to dinner, then meetings, then we go to sleep."
The talent accumulated across the nation for this game is something that is not seen very often.
"Every single kid here is a Division 1 commit, but is also a leader on and off the field," Lucé said.
Due to the talent level, the team bonded quickly, with practices featuring great chemistry amongst the players.
"We all became friends day one," Lucé said. "Practices are almost perfect. Everyone is so talented it's like a normal practice but super-fast and crisp."
The Leopard coaching staff is proud to see Luce representing the football program on such a high level.
"When you look at the number of players across the country performing in this game, 48 of them are Division 1 players," head football coach Matt Green said. "Unfortunately for Chochy he is not, but it shows the amount of respect that they have for him and his abilities. So, this is going to reflect well on us. It's in the newspapers, people will see Lovejoy and it's attached to Chochy and our football program. We are very proud of him."
Along with the once in a lifetime week for Lucé, he also had the privilege to sign with A&M Commerce to play football.
"Signing is an amazing feeling," Lucé said. "I'm officially a collegiate football player. No more worrying about being recruited. It's a good feeling."
The game kicks off at 7:30 p.m. with a live stream at USAFootball.com.
"I expect us to beat Canada," Lucé said. "They are supposed to be good, but nothing beats American football."