Flipping more than a fad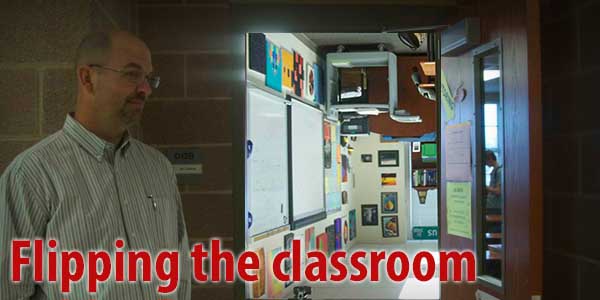 What started as a new and unusual method of teaching an AP Calculus class has spread to other classes and is considered by some teachers to be a factor that improved the test scores of many students. Commonly called flipping the classroom, class time is used for homework while students watch lesson videos during out-of-school hours.
"This is the second full year that we've done it," AP calculus teacher Keith Christian said. "Basically what happens is that the students go watch the lessons as a video, that's their outside assignment now, so instead of having homework problems now, their homework is to watch the lesson, and take notes on it. Then we use the class time to actually do the homework problems."
Christian's adopted method has spread beyond his class and on to others around campus, like to calculus teacher Randy Brooks, who has deemed the system useful to the students.
"I find that it's helpful, especially for our design, where I find kids are out of class for a lot of different things, and if we've got videos online, they can cover it anytime," Brooks said. "It's useful from that perspective if you're missing class. The other is that if you don't catch it all in class, you can go over it, it gives you a chance to go back, look to the video, rewind it, play through a different part, or if you've got some part, fast-forward through that."
Not only has this method of teaching spread, but test scores have noticeably improved since the video lessons were first introduced.
"I hate to make a judgement based on just a couple of years, because there are other factors that come into it, but our AP scores went up quite a bit last year," Christian said. "We went from having around 30 to 35 percent passing the AP exam to last year almost three-fourths of the students got an AP credit for calculus. It is absolutely a difficult class, it really is."
Because of the improved test scores, other teachers outside of the math department have picked up on the method.
"I started this year," AP physics teacher Michael Voth said. "It's a trend in education right now, so it's out there. Mr. Christian was the first person to do it here, I've kind of been watching what he's been doing for the last two years, and getting his insight on how it's went for him."
Flipping the classroom was developed by multiple founders and adopted by Christian based on difficulties students had in catching up and teachers had in re-teaching lessons.
"It actually started in the spring several years ago when I had a lot of students absent, and so I was teaching the same lesson over and over and over," Christian said. "So I started to record them, so that students who were absent could have access to the lesson and not just a copy of the notes, but an actual discussion of the notes. So I started doing that, and then I had a lot of students who weren't absent who wanted to use those video lessons, too, just as a review, or to go back for clarification on things. So I just decided then that I would try the next year to do all of the lessons that way."
Adjusting to this unique way of learning can be challenging for some students, especially with such a demanding course.
"For me, it wasn't that helpful," senior Haley Vasquez said. "I never liked it, and my friends didn't either. But the course is really hard. I think it would have been better to just teach the normal way."
AP calculus teacher Andrew Stallings says that although the system takes some adjusting, the students should benefit if they put in the learning time outside of class.
"I think a lot of the students like doing it," Stallings said. "It's different, so everybody has to accustom themselves to change, and for some people, change is hard. But if it's used correctly, it should be more time in class and in school to ask questions. The students who don't do the part outside of school are the students who are not benefitting from it."
As students grow more familiar with this new way of learning, flipping the classroom continues to be proven effective.
"It's a little strange to deal with it at first, but once you kind of get into the process, you can see how it flows," Brooks said. "Combined with more actual teacher-interface work in the classroom, you can see where the profits are. Now, you get to do your homework and you have a teacher to help you."