Young the Giant cut down to size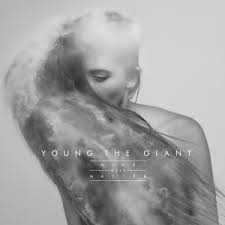 After Young the Giant's amazing debut album, they certainly had a lot of to live up to. Sadly, their latest release, Mind Over Matter falls short thanks to trying hard to recreate their original sound while trying to freshen it up with upbeat, techno sounds. Throughout the album they blend catchy choruses with more techno flare but it doesn't work and gets boring after a few tracks.
The only noteworthy song on the album is the first single "It's About Time". Instead of throwing in the occasional techno sound or orchestral strings, this track has a stronger and braver sound thanks to the angrier vocals and guitar sounds worth listening to again and again. However, from that point on the songs begin to blend together.
The album works to stay fresh with what is in for alternative music with songs such as the title track, "Mind Over Matter" and "Crystallized." Both songs are begging for radio play, but they aren't even worthy of it. Even though they are high energy songs, much like the sound that put them on the map in the first place, they aren't memorable. In fact, most of the album is worth skipping.
Musically the band did not seem to grow much after the first album. There are occasionally memorable moments on tracks such as "Waves" and "Paralysis", but they're gone in the blink of an eye.
It was easy to assume that slower songs like "Firelight" would be more enjoyable than upbeat song such as "In My Home", but they are just as dull and disappointing as the majority of the album.
The only songs that had lyrics worth praising are "Camera" and one of the only songs worth giving another listen, "Teachers". For the most part the lyrics aren't any worse than what listeners could expect from Young The Giant after their first album, but they certainly have not improved much since 2010.
Overall, it was a bit of a relief when the 13 songs, 53 minute long album was over. Mind Over Matter did not deliver anything unexpected and did not measure up to expectations. The band's first album is a much better representation of their talent and likability. This album was a bit exhausting to get through because one song was rarely better than the previous one. Hopefully the band's next release puts quality over quantity and mind over matter.