"Little Girls" join Annie cast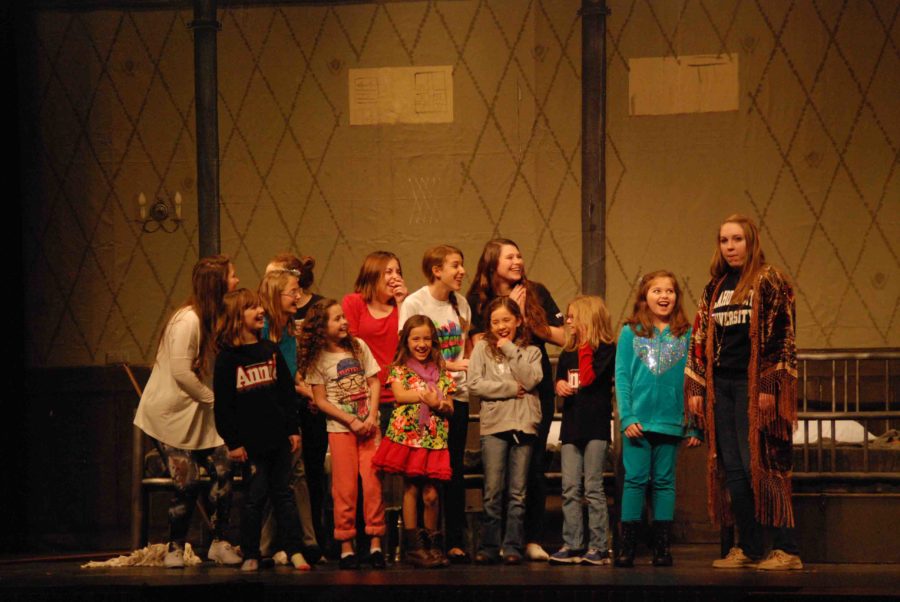 Annie is a  family-friendly musical about a quirky red-headed orphan named Annie (played by Meredith Bergwall) who after a life of being terrorized by drunken orphanage matron, Mrs. Hannigan (Rebecca Bradley), runs away to try to find her real parents. Along the way, she befriends a dog named Sandy, charms the citizens of one of New York's famous Hoovervilles and is taken in by famous billionaire Oliver Warbucks (Jonathan McInnis), who falls in love with Annie and puts out a nationwide search for her parents.
Annie is a musical full of upbeat songs and dance numbers, and is appropriate for musical fans of any age, especially children.  Annie premieres Thursday, January 23 and runs through Saturday, January 25, with a show each evening at 7pm in the LHS auditorium.
"Every other year we try to do a larger musical," theatrical director Jessica Brewster said. "This year it offered the opportunity for us to extend the roles to younger students from all the elementary schools. We auditioned the girls earlier in the process, and tried to involve as many students as possible. The young girls are so talented and fun to work with, and they always show up excited and ready to work. This is a great opportunity for them to learn about the theatre and choir departments and meet our actors."
Senior Meredith Bergwall began her theatre career when she was Brigitta in The Sound Of Music when she was 12 years old. Now taking on the role of Annie in the upcoming production of Annie the musical, she's gotten very close to the other young orphans.
"I love all of the girls in their own special way," Bergwall said. "They are incredible. They pick up choreography like nobody's business. I was always pumped about involving kids, they're just a fantastic addition to the caliber of talent and energy in the show."
The little girls are often bubbling with excitement when they come to rehearsals and many of the high schoolers enjoy working with the little girls. The high school students are each paired with a younger girl to help teach them the dances, music and lines.
"The little kids are so much fun and a joy to work with and they are all incredibly talented," senior Erin Vatteroni said. "My little orphan is always excited when it comes time to rehearsal and is really good at keeping up with the many complex dance moves that we learn."
The theatre department attempts to incorporate as much of the community as possible into the musical every other year, making it an opportunity to bring everyone together and help sculpt new talent.
"I am so impressed with their thirst for music and art," Bergwall said. "It's unbelievably inspiring to me. I'm beyond excited, there are no words."
Tickets are available online at lovejoytheatre.org, at the school store, or at the door if still available for 7 dollars. For more information about Annie, including show dates, please visit Lovejoychoir.com, or contact Jessica Brewster or Bethany Stuard.
About the Photographer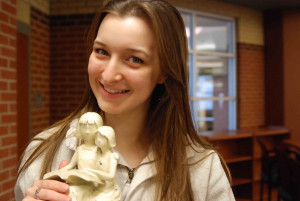 Katie Egger, Photographer
Katie Egger is a first time newspaper staff member.  Sure it's the last semester of her senior year, but it was either this or lose her sanity in AP...