Remembering Artemis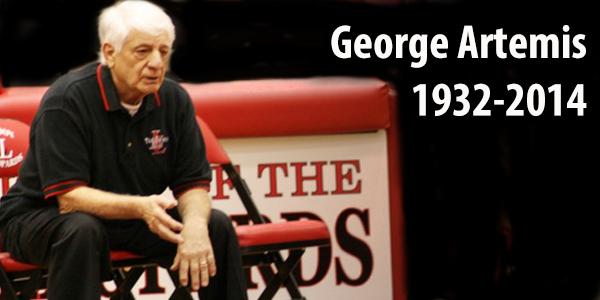 There is a sense of loss on campus. Over the winter break, George Artemis, one of the most beloved substitute teachers, passed away after a battle with mesothelioma. Artemis was born in 1932, served in the Korean War, subbed for the district for years and also volunteered for the wrestling program on campus.
His grandson, Ben Winfrey,  graduated from the school in 2011, recently finished his contract with the Army and is starting school soon. Artemis himself fought in Korea in the 1950's as an artillery gunner.
Artemis was born to Greek immigrants in Little Greece in the Bronx. He did not speak English until he was seven years old.
"Papou, which is Greek for grandpa, is my inspiration to continue my education," Winfrey said. "He showed if you work hard enough you can do anything."
Artemis moved to Colorado in middle school and held the record for most blocked punts in football in high school. The first in his family to go to college, Artemis was an all-American wrestler for the University of Colorado.
"Coach Artemis was a great man, first and foremost, and a believer in the development of great people," coach Brandon Villarreal said. "He would volunteer his time more often when his grandson Ben was on the team. His involvement slowly declined from that time. However, he still made it to practices from time to time and even continued to come to wrestling meets at other sites to help coach. His interaction with the team was great. He would coach them as if they were his own kids and he was the head coach. He worked them hard and took no less than everyone's best effort. The kids loved him and the coaches did as well. He spent a number of years in education, so his ability to build relationships was amazing."
After his time in Korea, Artemis met Joy, his wife, in Golden, Colorado where they married. After the birth of their daughter and son, they moved to Salmon, Idaho where he remains a local celebrity to this day. Artemis and his wife moved to Texas in 2006 to be closer to Joy's cancer care.
"He showed interest in the kids and he cared about other people, too. He would even bring donuts for the office staff every Friday," front office receptionist Rhonda Lloyd said. "One time he forgot and went on his off period and brought donuts. He always went the extra mile and wasn't just interested in getting the job done."
Artemis left a lasting impression on virtually everyone he spent time with.
"Mr. Artemis had a huge impact on me because he taught me what simple happiness could be," 2013 graduate Roger Roulette said. "He bonded with everyone on the team with such emotion that he was a role model to all of us. He always put a smile on my face whenever I saw him in the hallways or on the wrestling mat. I miss his sweetness and devotion to people so much."
"Mr. Artemis was and knowledgeable teacher and coach to the wrestling team," senior Mason Olk said. "He inspired me personally with his wise speeches before every match and during practices. His influence on me will not be forgotten."
A service is set for 5:00 p.m. Saturday, February 8  at Holy Trinity Greek Orthodox church in Dallas. Following the service there will be an open house from 6:30 to 8:30 p.m. t the Winfrey's house (1718 Turnberry Lane Allen, TX 75002). Students and community members are welcome to stop by. In lieu of flowers, donations can be made to the Lovejoy wrestling booster club or the American Cancer Society.