A quick study tool for finals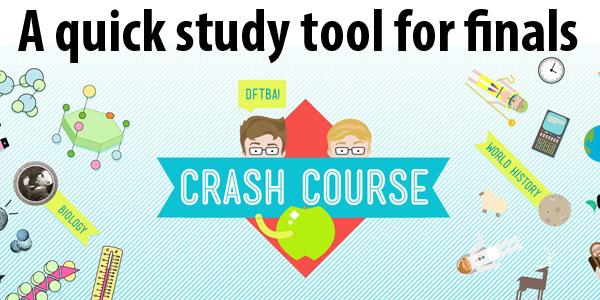 When it comes to YouTube, teachers are typically asking students to steer away, but now some  are encouraging its use. John and Hank Green, also known as the "vlogbrothers", have a YouTube channel called "CrashCourse" that includes a series helping students learn about Biology, Chemistry, Ecology, English Literature, U.S. History, and World History. With finals coming up, students might turn to these videos instead of the textbook.
The videos are now available to order on DVD so students can watch them at home. John makes the videos about History and English courses, while Hank is in charge of the ones involving Science.
Teachers are showing the videos in class and many students use the videos as a tool to study for courses and even AP exams.
"I play the videos for my classes because it's something that seems to keep their interest and I actually started playing them because students asked me to," history teacher Homa Lewis said. "The only thing I don't like about them is that he tends to talk pretty quick and covers a lot. I think John Green is great though."
The videos include humor, pop culture references, references to the videos on their main channel as well as John's novels and Hank's music. Even the videos themselves have ongoing jokes and there is some merchandise related to the online series available to purchase.
"Crash Course is awesome because it helps us learn about subjects in a way that makes us laugh and makes it fun for us," sophomore Caroline Vitanza said.
Each video is under fifteen minutes long and covers specific topics that students tend to have tests and quizzes over.
"I absolutely love the videos and I was already a huge fan of the Green brothers," junior Ben Meaders said. "I don't think I would have passed WHAP without 'CrashCourse.'"