Lights, camera, action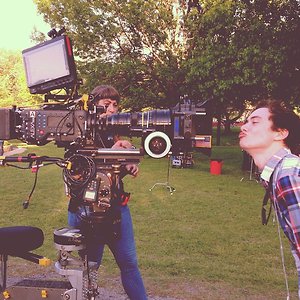 It's lights, camera, action for the film club. Meeting every Wednesday after school in Ray Cooper's room (E104) from 4:15 to 5:15 p.m., students will be making, not watching, movies.
"We want to make four short films this year and bring people who are interested in making films together," junior Garrison Clough said. "Anybody can come at any time. We shoot outside of school on weekends though. Even if a kid can't come to meetings after school, they can still come to the shoot."
President of the club, Clough has been directing films since middle school and has participated in festivals and competitions. However, students don't need to know what they're interested in doing to join.
"I am in the film club because I am very interested in clothing design and it seemed like a great opportunity to develop that interest since costume design is a part of film," senior Kristina Hartman said. "Also it is just a great environment and all the people are super friendly fun to be around."
Students don't need to be veterans of filmmaking or have any experience to attend the club meetings. If students want to be involved and learn about filmmaking, this is an opportunity for them to give it a try.
"I'm new to film, and I'm definitely interested in it," junior Jacob Hagedorn said. "I'm excited to be in the club."
As of now, students do not know the genre their upcoming projects are going to be in. They pitch ideas at meetings and go with whatever could come to life on screen. Students are welcome to attend meetings every Wednesday or hear the words, "action!" on the weekends when the club films.
"There's a lot to making a film. It isn't just the work of a director, writer, and actors," Clough said. "It's a team effort. No matter what there can be something to do."