Friday Night Lights: Behind the scenes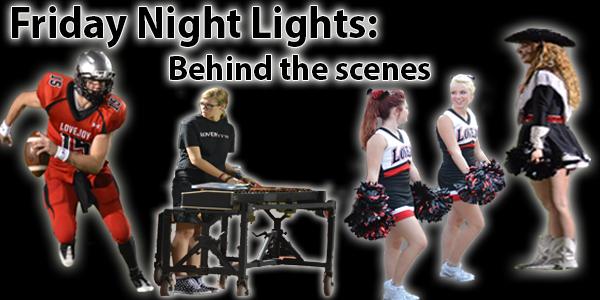 Every week, every team or group on campus practices a certain amount hours and has a certain amount of work. For just 11 days in the fall, many of these groups come together and use all their practice and preparation to create a competitive, energetic and spirited environment: varsity football games. This is what it takes to bring the school "Friday Night Lights".
The Football Team
The football players; the reason this whole community wide event occurs, practice outside on the field about 7 and a half hours a week before school. Not only do the players and coaches need to prepare themselves physically for the games; they must prepare mentally as well.
"I think you have to prepare yourself by watching film," head football coach Matt Green said. "You have to be familiar with your opponent and know what you're gonna do, so that's how I prepare myself mentally, by watching lot's and lot's of film."
An hour or two before kickoff, the coaches begin pregame preparations.
"[Setting up doesn't take] as long as you'd think," Green said. "We have a lot of coaches so everybody kind of has responsibilities that are delegated to them. We have to set our headphones up and get our cameras set up. We get it set up for pre game by putting different footballs in different locations, but I would say they normally set that up in 30 minutes or less."
For the away games however, there is much more setting up to do in advance to ensure everything is packed and where it should be.
"Definitely more [preparation] because you have to pack," Green said. "We have to load equipment ahead of time, and that's always a pain doing that. You got to make sure you have everything and double check it because at home we know we have it, and when we go on the road and [happen to] forget it, it's a problem. I would definitely say going on the road is a big hassle for us, since we have to make sure we don't leave anything behind."
Once everything is set up and the game is ready to begin, it all comes down to the players themselves.
"I would say that it takes a lot of commitment because it's not just the practice time on the field, the kids are responsible for watching film on their own," Green said. "We ask them to do a lot in the weight room, and the commitment with their grades is huge and that's something we press them on. They have to take care of their grades and they have tutorials we require them to go to, so I would say to be a varsity football player is a heavy load, but it's manageable."
"[The expectations of a varsity player is] to give 100 percent effort all the time and be dedicated to the team," senior Grant Jarvis said.
Despite the high expectations from the coaches and the athletes themselves, the players still have their own reasons of why they play.
"[My favorite part] is just getting to hang out and play football with my best friends," senior Braxton Mayfield said.
The Cheerleaders
Comprising of tumbling, dance, cheers, jumps, and stunts, cheerleaders are constantly performing throughout the game. But unlike the football team which has a set schedule every day, cheer is a bit more flexible.
"It kind of varies because it depends on what we have coming up," varsity cheerleading coach and vice principal Kristen Kinnard said. "If we have a special event like a special pep rally or a game or an event of any sort, then a lot of times we would practice more than our regular week."
Like every other sport, cheer takes a lot of love and effort, and isn't just a blowoff activity like many assume.
"I think it takes a lot," Kinnard said. "I think you have to love cheer and you have to be good and open to being in front of people and being spirited. You have to put in a lot of hours, and the girls take it seriously, although it doesn't seem like it all the time, but they really do because they want to look good. They want to do their best, especially in front of their home crowd."
With the hours put in and the families created, getting to know everyone and sharing in something they love is the best part.
"Getting to know the girls and just getting to know what their passion is and seeing them excited about something [is my favorite part about coaching cheer]," Kinnard said. "I love just being a part of it."
The Majestics
The Majestics drill team prepares for their halftime performances by practicing each dance, stretching, at home and at school, and perfecting their technique, for a total of about 10 hours a week or more.
"I think you have to be pretty dedicated to be a majestic because we don't have an offseason such as [other] athletic sports may have," secondary fine arts coordinator and Majestics team director Fela Lowrance said. "We start with camp the first week of august and then the girls report for practice every day until our show finishes in the end of April. In May we have two weeks of a boot camp, so we never have off time, so I think you have to be pretty dedicated. Our rehearsals are 7:00 to 9:00 every day. Some days we have to go to Sloan Creek and on those days we do 6:45 to 8:45 rehearsals. I know a lot of kids don't like to come in to go at 6:45 in the morning, but the Majestics are here every day. I think to be in our program it requires a pretty intense amount of dedication and commitment to last the whole year or more."
The team has certain dances and routines they do every year to ensure each one is perfected.
"We have several dances we do every year," senior Master Sergeant Jayme Allen said. "We perform usually on a three week cycle and we'll just go over every dance over and over again and we'll polish it and make it all ready. We have tryouts every Tuesday to see which girls have the appropriate technique and memory for each game."
Typically the away games are when the girls who might not yet have it perfected get the chance to perform.
"Away games are usually a lot easier to make in the weekly tryouts just because the audience isn't as big and we care more about our home audience," Allen said. "We also want to give our girls who might be a little shaky the opportunity to have that performance."
With the weekly tryouts, much dedication and love for dance is needed to be a Majestic.
"We are encouraged to stretch and work on our technique every night at home just to get our own personal technique up, because if we're struggling, we're harming the team," Allen said. "It is a lot of long hours and work and even outside of the Majestics you're expected to maintain a certain aura of yourself. There's a certain standard we require of all the Majestics, whether it means working in practice, in your academics, and in your social life."
The Color Guard
The flag-yielding color guard practice a total of about 9 hours a week after and before school. With most of the girls being new this year to the sport, adjusting to the ways of practicing and performing is difficult.
"[There is] more [dedication] than it seems," sophomore color guard member Jenna Rupich said. "It's really really hard, especially if you've never done it before. It just makes everything harder, which means you have to work harder, and the harder you work, the better you are."
Like many endeavors, hard work and practice are needed to succeed in color guard.
"Definitely more than 100 percent [effort is needed]," color guard director Amanda Bailes said. "I mean, you're practicing here and then you have to go home and practice. A lot of times I assign them videos and they need to turn in ones of them practicing so I know that they're doing stuff at home. Not only that, they have to work on performing as well as practice to over prepare them for the game and competitions."
For members of the color guard, getting the chance to perform shows other people that each aspect of a football game matters equally.
"You make a lot of really great friends and you get to perform on a football field," Rupich said.  "It's not all about the marching band, it's not all about the cheerleaders or the Majestics, it's a stage that's not actually yours, but it's still really cool."
The Trainers
Known as "the team behind the team" and dressed in their signature khakis and polos, the athletic trainers and student athletic trainers are constantly on the watch and paying attention during the games. Arriving an hour before practice every day and hours before games every week, the trainers are the behind the scenes caretakers of the players.
While the name itself seems to only involve 'training'  athletes, the job entails much more. Trainers not only work to condition athletes, but also to prevent and rehabilitate injuries.
"Rule one is injury prevention, so that's where the water and watching for wounds and stuff like that is," athletic trainer Susan Smiley said. "[The student trainers] have also found different structural issues, like at Wiley they found a piece of turf that was loose, and so we marked it off so no one would get hurt. Then number 2 is if an injury happens, that initial care. And then the last thing we did is rehab and return to play."
There are 14 student trainers this year, and with the high amount of trainers, the less they must come in.
"[Being a trainer takes] a lot of time dedication," freshman trainer Bri Vargas said. "The more trainers there are though, the less people have to come in, and the less amount of trainers we have, the more time you have to put in and come in for practices and games, but it does no matter what take a lot of time. Not as much as the players though."
At the games the trainers must set up not only the home sideline, they must also set up the visitor sideline with ice chests, waterboys, and anything else the visiting team may need. The trainers usually take about an hour to an hour and a half to get ready and prepare for the game.
"We get there at 5:30 and the game doesn't start until 7, so we have that amount of time to set up and get ready," senior trainer Chase Martin said.
When the game starts, the frame of mind of the trainers is that all that matters are the players and that you are there for them.
"[My mindset is] just that I have to get work done and not mess around," Vargas said.
To be a trainer you must also have certain qualities and be able to meet expectations.
"I expect [the student trainers] to want to learn about injuries and injury prevention," Smiley said. "I expect a certain level of professionalism as well."
Practicing every morning during the week, in class, after school, and outside of school, the band is one of the most time consuming extracurriculars on campus.
"During marching season we practice from 7 to 8:15 every morning and then from 6:15 to 8 on Monday evenings," associate band director Allie Duck said. "Once marching season is over we go into concert season and during concert season each section in the band, whether it's flutes or oboes, bass clarinets or trombones. They all have their individuals sectionals and they come in for an hour every week, so it drops down quite a bit in the concert season for the kids because they only have the one hour outside of the school during the week that they come in to practice."
Despite the long hours, the band has been more spirited while receiving more acknowledgement this year, than ever before. Between the band getting their own stands, getting more credit at pep rallies, and maintaining their strong family, band is starting off the year strong.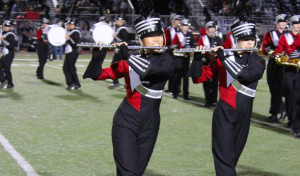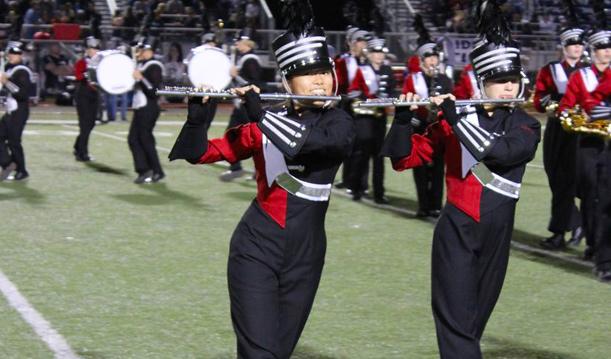 "[My favorite part is] being able to have a separate family aside from my own with the people in band and getting to experience things not many other people get to experience," freshman Sammie Houston. "It takes a whole lot of dedication as well."
After all their practice and hard work, the band gets the chance to enjoy themselves at the games.
"Watching the kids have fun and seeing them dance and play fun music [is my favorite part]," Duck said.