"All in the Timing" hits the stage tonight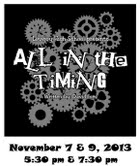 Every year the theatre production class puts on a show that teaches students all aspects of theatre including acting, directing, and technical theatre. This years production is called "All in the Timing," by David Ives and is under the direction of theatre teachers Jessica Brewster and John Davenport.
"All in the timing" is a series of short comedic plays that focus on how people handle different situations, and how time affects it all. For this show, the theatre department made the decision to bring the audience on stage with the actors. Because of this, seating is limited to 95 people per show. Tickets are on sale in the school store and will not be available at the door. Showtimes are 5:30 p.m. and 7:30 p.m. on Thursday, November 7 and 5:30 p.m. and 7:30 p.m. Saturday November 9.