The life of a football wife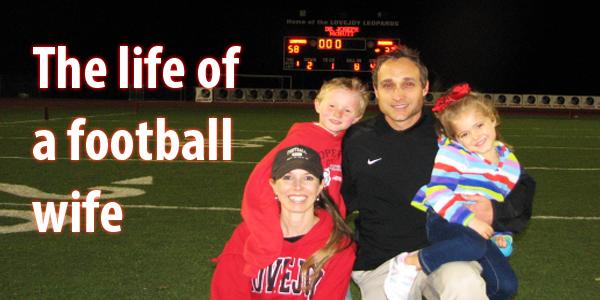 During the season, from August to November, football coaches have a non-stop and busy schedule. The amount of hours put in, the high stress of the job, and the time away from families are just some of the harder parts of their job.
For most people in the community, football season starts with the first varsity game, but for the football coaches and their families it starts much sooner.
"Last week of July is when coaches school starts, so that's when we start coaches meetings," football coach and biology teacher Shawn Purcell said. "The second week of August we usually start practices, and we're in two-a-days during that time so they're really a single mom during two-a-days. And then we get into our weekly schedule."
For coaches this usually consists of an array of football practices, extra activities, and games.
"Usually we work out in the mornings at 7:15 so I'm not home any morning of the week when my kids wake up," Purcell said. "In the evenings on Friday we have [varsity] games, Thursday nights we have JV [and freshman] games, and then we have middle school games on Tuesday nights. Usually Wednesday night is a good night to spend with the family. Monday nights I do FCA (Fellowship of Christian Athletes), so that leaves one night during the week when I'm home, unless I go home on Tuesday nights and don't stay up at the school. Usually I'm not there during the mornings and most of the nights during the week I'm not there."
The coaches are not only busy during the week, weekends are just as eventful.
"On the weekends we work, so Saturday morning I don't see [my family]," Purcell said. "We'll come to work, and we'll leave sometime in the afternoon probably between 1 and 3, so I get to see them a little bit Saturday evening. Sunday I'll go to church and eat a quick lunch and then I'm back up here by one, and then usually we'll get home in time to have dinner with our families."
With the coaches being gone from home so often, wives of football coaches are usually single moms during the season.
"I leave in the morning very early and I don't get home until dinner time, so my wife takes care of both of our kids all day long," offensive coordinator Ryan Priem said. "I can't help until I get home, so I would [say] that [wives of football coaches] are a single mom during football season."
Although they are more or less single moms during the season, some of the coach's wives still have their favorite parts about football and being a coach's wife.
"My favorite part of being a coach's wife is getting to participate in something that is so important to Shawn," Mindy Purcell said. "He is an incredible coach and he loves what he does and he does it well. There aren't many careers or passions that the spouse and family can join in and be a part of. We get to come to the games and cheer on the team and we get to celebrate the victories as a family and grieve the tough times together too."
The majority of coach's lives revolve around the sport during football season, making football a big part of their relationships, past and present.
"[My wife] knew that [football season is very busy for me] when we were dating, when we were engaged, and our entire marriage, so she knew what she was getting into," Priem said.
Long days and hours takes getting used to for both the wives and the coaches, and for some, growing up in a football orientated family helps.
"I grew up as a coach's son," Shawn Purcell said. "My dad was a head coach, my uncle was a head coach and defensive coordinator, and my brother is a football coach at Plano Senior High School. I knew what it was like for my mom, so when I started dating my wife I told her that before we could get engaged that she had to make it through a football season, and she did, so she said she was okay with it."
"Football has always been part of our relationship," Mindy Purcell said. "In fact, Shawn insisted that I went through a football season before we got married so that I would know what I was getting into. We love watching football games together. Before we had kids, during the playoffs we would spend many Saturdays at Texas Stadium watching games all day. Football is a big part of our life together."
The football players are held to a certain standard, and with the coach's families being around the sport so much, one of the best things coming out of it are the good role models for the children.
"My kids love going to the games," Mindy Purcell said. "They love getting to know the players and cheering for them. Chochy [Luce] and Aaron Fuller are their heroes right now. At home when my kids play football my daughter pretends she is Bowman [Sells] and my son is Chochy. That is a gift and I'm thankful that the kids and I can share in Shawn's passions with him."
For the coaches, switching roles with their partner and being a stay at home dad is something they wouldn't dare try.
"No, I couldn't do that," Shawn Purcell said. "I like and enjoy the time I spend at home, but to be a stay at home mom, it's hard work. We have a six year old and a four year old, and she ends up watching some other kids too. I couldn't do that full time; it's a lot harder than what I do."
The coaches not only wouldn't change their roles; some of the wives of the coaches wouldn't like to either.
"I would not trade roles," Ashley Priem said. "He loves his job, but I couldn't do it."
"If I had a chance to switch places with Shawn would I? Absolutely not!" Mindy Purcell said. "I would be a terrible coach. I'm horrible at making decisions, especially when they have to be made quickly. Shawn will actually sometimes say to me 'Its' 4th and 1 what are you going to do??', meaning make a decision quickly and stick with it."
Despite all the stress and busy work times, the coach's families wouldn't change it for anything.
"We have been on many football staffs, and the coaches at Lovejoy are top notch," Mindy Purcell said. "They have to make so many tough decisions on and especially off the field that not only impact the individual lives of kids, but the lives of all the kids and other coaches on the team. The coaches here do care about each player and they care about the impact that their decisions will make. In addition to that, they also have deal with the stresses that just come with being a football coach in Texas."