Too Weird to Live, Too Rare to Die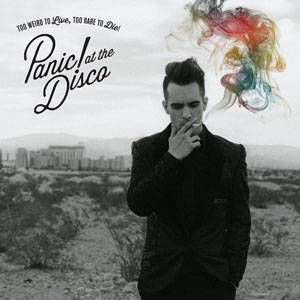 Panic! At the Disco is streaming their new album, Too Weird To Live, Too Rare To Die! on their record label's YouTube channel with the album released for purchase on Tuesday, October 8.
The first two singles, "This Is Gospel" and "Miss Jackson", start things off wonderfully, showcasing just how anthematic and bold the entire album is going to be. It has a much more techno vibe throughout most of the album and it is evident on songs such as "Vegas Lights" and "Girl That You Love". Too Weird To Live, Too Rare To Die! takes risks the way that they did on their Beatles-esque album Pretty. Odd. but the lyrical content is as sharp and cynical as ever.
Brendon Urie soars vocally and autotune is used occasionally on songs such "Casual Affair" and the vulnerable, brave closing track, "The End Of All Things", but it is done gracefully without seeming like a sellout move. The entire album is lovable and memorable and after a single listen you will want to replay it to make sure it was as lovely as you thought it was the first time around.
The band's fourth studio album is catchy and practically begging for radio play and has a lot of songs that will fit the misfits or the heartbroken such as "Nicotine", which is something that Panic! At the Disco does with skill. You will catch yourself humming the songs without even thinking about it.
One of the only downsides to the album is how quickly it ends. The album is only ten tracks, but each song blends well and yet has it's own individual voice. It leaves listeners wanting more and wondering what else the Las Vegas native band is capable of .
The album takes risks that a lot of alternative bands are not taking these days, ditching the heavy dubstep beats for more techno vibe, and definitely fits the title. Too Weird To Live, Too Rare To Die! can be considered weird and is certainly rare.