Freshman AP class presents challenges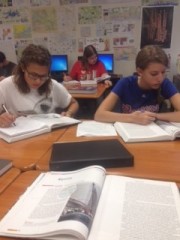 Freshman and sophomores are taking their first AP classes this year, AP Human Geography for freshman and AP World History for sophomores.  It's the first year the school has offered an AP level course for freshman.
"I expected that it was going to be a challenge and that the writing would be difficult and that the multiple choice would also be difficult," AP Human Geography teacher Homa Lewis said.  "I didn't really have any set expectations that the grades would be set one way or another. I thought that it would be hard."
Results from the first few weeks of the class seems to prove Lewis right.
"I think with the group retake and the rewrite and the project that there may be students that make A's and B's, so I think the grades will be all right," Lewis said.  "I think overall students should expect their grades this first six weeks to be possibly lower than what they're used to making."
Group retakes are just one of the ways that the students can review what they need to work on or don't know, while also providing a chance to improve grades. One of the difficulties of taking an AP class is the amount of homework, which can include vocabulary cards, reading pages in the textbook and also preparing for class discussions.
"It's definitely challenging," freshman Sara Dunham said.  "It's different, but I think with a little bit of practice that throughout the year we will all be able to get used to it."
With freshman now taking an AP course, AP World History teacher Kevin Finn believes that the transition will not only be smoother for the freshman next year, but that AP Human Geography will benefit students in all other AP classes they may take.
"I think it will give them a chance to challenge themselves with a college level curriculum," Finn said. "[It will] give them a chance also to read a textbook that is written at a much higher level and give them the study skills, test taking skills,and the essay writing skills that will help them in AP US History and all the other AP classes as well."