Student shares spotlight with Parachute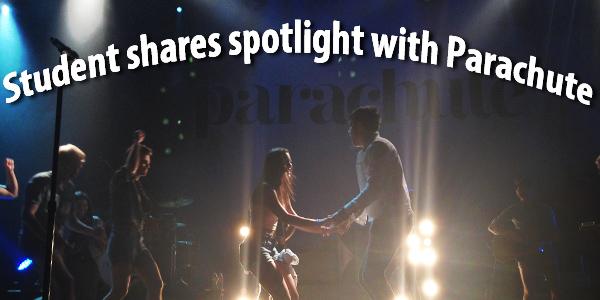 Midway through the setlist of the Parachute concert at the House Of Blues Sunday night, the band stops singing their original songs, to play an upbeat Bruce Springsteen tune.
Parachute's lead singer, Will Anderson, starts singing and dancing all across the stage while  the lights beat down, and the pulse of the energy from the concert flows through the air. He points his finger to the crowd to chose one lucky girl to come up on stage with him. He pans across the sea of people for a while until eventually he comes up with his winner, and she just so happens to be senior Kaylin Carmichael.
"I almost started crying; having the lead singer of your favorite band call you up on stage and dance with you." Carmichael said. "It was the coolest experience and such a high. I wouldn't trade that moment for anything."
Dozens of jealous girls watched as Carmichael was spun around by the lead singer, and the members of the opening bands (Paradise Fears, Matt Hires) poured onto the stage in cut-off jean shorts, for a giant dance party.
"I swear he pointed at me, but I couldn't get over the fence, so Kaylin took my spotlight," sophomore Blair Lang said with a smile on her face. "But I'm glad Kaylin got to do it, it seemed like a lot of fun."
Carmichael wasn't the only one having fun; the crowd jumped to the rhythm of the song, and sang along back and forth with Anderson. The vibe of the concert was electric as the crisp sound of the saxophone, played by Kit French, blared through the air, with the sound of dozens of voices yelling along.
"It was weird, because never in a million years did I think I would have gotten chosen," Carmichael said.  "But they started playing Bruce Springsteen, who I adore, and I was freaking out and hardcore singing, and the next thing I knew he was pointing at me and I was climbing onto the stage with him."
About the Contributor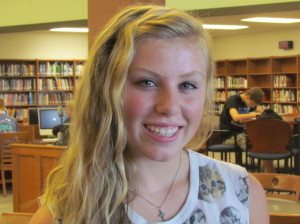 Alyson Sudak, Staff Reporter
Alyson Sudak is a sophomore who spends her time cheerleading, running track, and reading majestical amounts of books. She enjoys flying through the air...