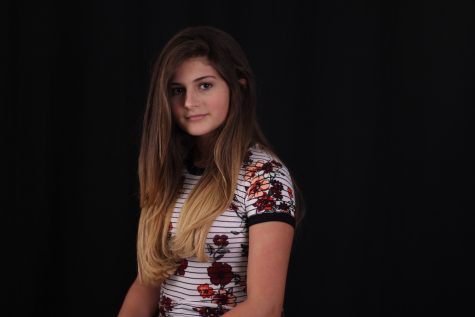 Hannah D'Iorio, a freshman, is a new staff reporter on The Red Ledger. Hannah first joined newspaper in seventh grade, and in eighth grade she became the Assistant Editor of LeopardLife.
Hannah has been doing competitive cheerleading for two years now, and this year she is on the freshmen cheer squad for school. Before school and competitive cheer came along, she cheered at ASA football games for about five years
When first meeting Hannah, she may come across as a normal teenage girl. However, she is a little more complex than that. Sure, she does cheerleading, enjoys meeting new people, and
has an obsession with Starbucks, but she also can be super antisocial and crazy.
When Hannah isn't cheering or hanging around Starbucks, one could often find her curled up in bed with Netflix or Twitter on her phone. Hannah has the natural talent of being about to binge watch Netflix for a long period of time. She was able to finish ten seasons of F.R.I.E.N.D.S within a week and a few days.
Cheering and watching Netflix sums up Hannah D'Iorio.
Hannah D'Iorio, Staff Reporter