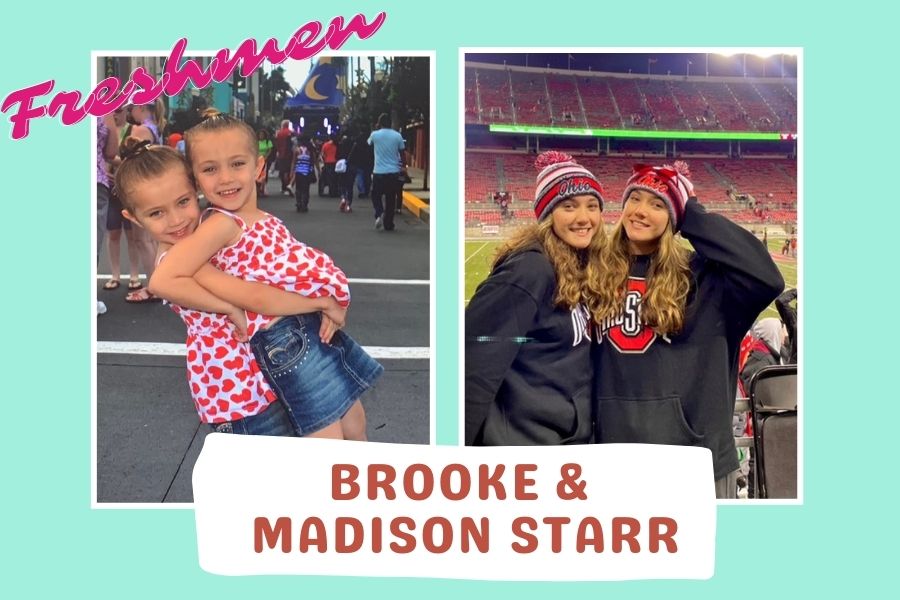 Hannah Gonzalez
At a Glance:
Favorite thing to do together: Playing volleyball together
Madison's favorite musical artist: Johnny Cash
Brooke's favorite musical artist: Travis Scott
Madison's favorite movie: Parent Trap
Brooke's favorite movie: Criminal documentaries
Looking Deeper:
The Red Ledger: What's your favorite part of having a twin?
Madison Starr: I like having somebody with you all the time. And just like you don't have to go to things alone, and always you have a person with you.
Brooke Starr: Definitely having somebody with you all the time. 
TRL: How has your relationship with your twin changed once you became freshmen?
Brooke: Well, this is our first year not having classes together. So, it's kind of different. 
Madison: Yeah, it's different, but like, I feel like it's a good thing.
TRL: How do you think that having a twin has affected your high school experience?
Madison: Definitely in a really positive way, because you always have a person who knows what you're going through and who can help you with mental stuff.
Brooke: In our school work, it's nice because you can always ask her for help.
TRL: What's the most frustrating thing about having a twin?
Brooke: For me, it can be frustrating to always have a person following me around. 
Madison: Yeah, for me it's when boys like both of us instead of just one of us.