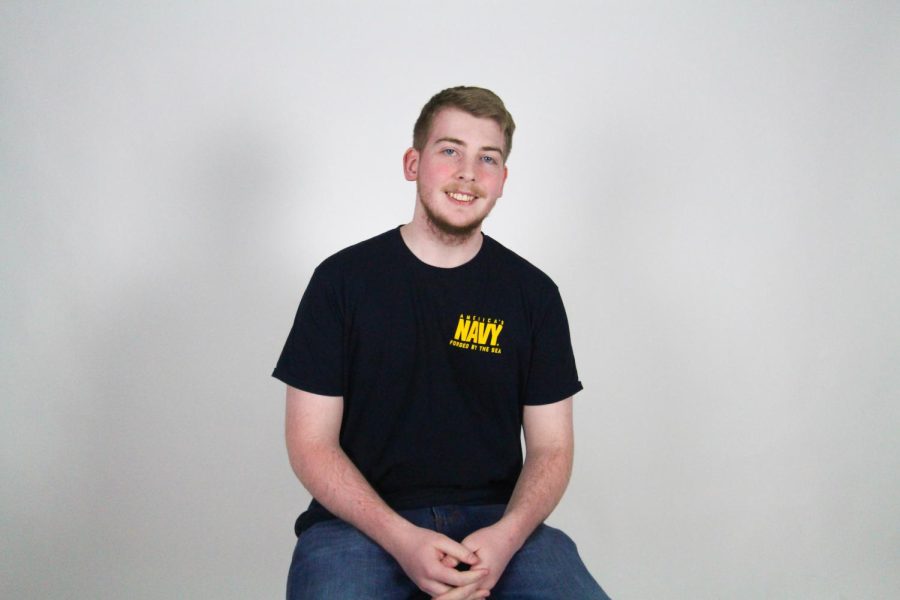 Nicholas Perez
Most students spend their 30-minute lunch period waiting in line for food, then sitting down at a table with their friends to talk about their day; however, for senior Evan Dailey, he spent the same 30 minutes learning about a program that would shape his future. 
Last October, Dailey met a Navy recruiter, Petty Officer Rance Quisenberry, at lunch, which led to a meeting with his mom about recruitment. Now, Dailey is preparing to join the Navy's nuclear program after graduation. 
"I was kind of curious, and we set up a meeting with [Petty Officer Quisenberry] and my mom," Dailey said. "We all sat down and talked for a few hours. It happened pretty quickly. Right now, I have done everything except swear in. I'm waiting to hear back about some medical stuff, and after that's approved, I'll just swear in and wait until boot camp."
Dailey took a test with an interviewer that qualifies recruits for Military Occupational Specialties (MOS) at the Military Entrance Processing Station (MEPS). At the MEPS, he discovered he will most likely work on submarines with nuclear reactors. 
"He gives me this paper and says 'Are you willing to go on submarines?'" Dailey said. "I said 'I'm willing, sure.' I wrote my name, and then after I signed my name, he said 'You're probably going to get it because not a lot of people [agree to] that.' I'm okay with that though. I'm not too worried about it."
Dailey attended McKinney High School before moving to the district last year. McKinney High has a Marine Junior Reserve Officers Training Corps, but the high school does not have an ROTC program. 
"For the past few generations, the mindset has been college first with no real guidance," Quisenberry said. "While college is a great option for some people, for others, it's not. [Students are] still in the mindset that they have to go to college, rather than learning a trade or getting job experience."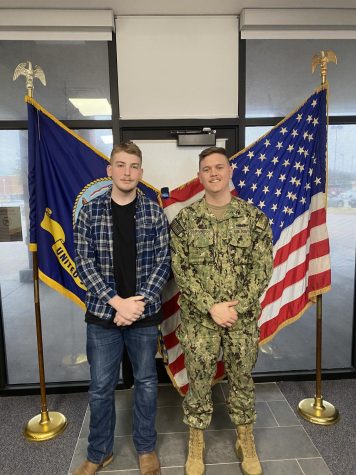 For Dailey's senior project, he informed people of the Navy, its core values and its benefits. He separated the benefits into four categories: education and training, technology, unique Navy experiences and post-service opportunities. Two of those benefits include increased educational and financial opportunities.
"When I first started joining, suddenly my parents were really supportive of my decision once they found out the college is free," Dailey said. "While you're actually in the Navy working, you can work toward certifications. You can actually get your bachelor's degree while you're in active duty."
Dailey is in the Data Science club with senior Eric Wang. Dailey shares his plans for the Navy and the innovations he works on with Wang.
"I think he's really prepared," Wang said. "He showed me a tank idea he has, which charges up after a few seconds and shoots an electric blast. Also, [showed me] a submarine boat with a scanning radar that can remove camouflage from opposing forces."
Since starting the process of joining the Navy, Dailey has prepared physically and educationally. Depending on his assigned job, Dailey plans to begin boot camp sometime around August in Chicago, IL. 
"I have been working out a lot more than I have been before," Dailey said. "It kind of forces you, like 'Okay, I kind of have to do this now.' It's very motivating to get stuff done. A lot of people don't realize that boot camp is 60% physical activity, 40% in the classroom."